GET EXPERT HELP WITH ANESTHESIA PERSONAL STATEMENT FOR FELLOWSHIP
Let us craft a standout anesthesia personal statement that impresses the committee and boosts your admission chances.

Proficiency
in ERAS® Application

GUARANTEES FOR YOUR ANESTHESIA PERSONAL STATEMENT FOR FELLOWSHIP
The anesthesia fellowship personal statement of the highest quality is not only about writing but some essentials that need to be considered.

Winning & Personalized Documents
Win the committee's attention once and for all with a well-personalized anesthesia personal statement. Our finest writers can execute any of your demands, putting it into a unique doc created from scratch per the filled Questionnaire.

Tailored to Your Chosen Program
Our team of experts meticulously examines all personal statements to guarantee they meet all program requirements & demands. We will also focus on highlighting your best qualities & traits that align with this specific anesthesia program.

Conformity With the ERAS® & EFDO Requirements
Every fellowship anesthesia personal statement we produce for you is created by highly competent and well-versed medical experts in strict accordance with the ERAS® application system requirements and EFDO standards.

97% Acceptance Rate Among Customers
With a success rate of 97% obtained from polls, our clients have been admitted to their desired anesthesia programs. By using our services, you can also increase your chances of getting the anesthesia fellowship effortlessly.

Assigning to Medical Degree Holders
Aside from being exceptionally good writers, all our experts hold medical degrees. So your fellowship anesthesia personal statement will be tackled by a seasoned professional with a checked background and field expertise.

Fast Turnaround & Timely Delivery
Our commitment is to provide a document meeting all the admission criteria and timing standards. Be sure you'll get a top-notch anesthesia personal statement just at the specified time or even earlier, regardless of the deadline you set.
We are experts in writing :
Letter of Recommendation
Application Resume
MSPE, AND MORE!
Statement of Purpose
Personal Statement
ERAS Application Form Completion
And More!
WHAT ELSE YOU'LL GET WITH A PERSONAL STATEMENT ANESTHESIOLOGY

Chat With the Expert Directly
To guarantee that your fellowship personal statement is tailored to your unique case, you may ask questions or provide comments through a direct chat with your assigned writer. Use our messaging system to get in touch with your expert quickly.

Money-Back Is Available
We're confident that our services will uphold the top quality of a fellowship anesthesiology personal statement. Yet, we prioritize your satisfaction and provide a money-back option if there's something wrong with your order, we cannot fix.

14 Days of Unlimited Edits
We offer unlimited costless revisions within 14 days to ensure your personal statement fellowship anesthesiology is absolutely flawless. Feel free to request as many amendments as needed – we implement them all in the shortest possible time.

Simple & Сlear Workflow
Place an order easily by filling out the order form. After that, send us your materials or complete the questionnaire to customize your fellowship anesthesiology personal statement as you wish. Then you can easily track it via the Customer Area.

Complete Payments Safety
Protecting your privacy and security at all stages of cooperation is of utmost importance to us. We use reliable payment methods and implement advanced security measures to save all your transactions and payment data comprehensively.

Fully Confidential Cooperation
We have a complicated anonymity policy in place to safeguard your personal data and application specifics. Thanks to our dedication to privacy, your information will be kept totally secret throughout the process and never be shared with anyone.
MEET OUR BEST ANESTHESIOLOGY PERSONAL STATEMENT WRITERS
With their knowledge and admission expertise, they can assist you in creating a stellar anesthesiology fellowship personal statement.

Diploma Holders

Adepts in Every Medical Specialization

Masters of Efficient Success-Oriented Strategies

Resourceful in the Creation of Texts

Accomplished Document Writers

Internal Medicine
Emmy is a virtuoso when we speak about IM. Gastroenterology and nephrology are her top areas. Nevertheless, she is practiced in all of the IM subspecialties. You will not need to ask Emmy to be precise about the requirements – it is her habit already! Order a fellowship anesthesia personal statement from her, and Emmy will prepare it for you in an ideal manner.

Pathology
Cristian readily devotes himself to the hardest orders that somehow relate to chemical, clinical, pediatric, and other fields of pathology. Even so, Cristian is competent in nearly all the subspecialties that pathology has to offer. Tight deadlines, tons of info, and even days off cannot discourage Cristian when he aims to treat you with the best fellowship anesthesia personal statement. He makes us proud, as countless customers prefer him!

Surgery
Whether it's plastic, thoracic, or any other type of surgery, Bonnie tackles all tasks related to this medical field in an instant. Describe your requirements for the fellowship anesthesia personal statement, and Bonnie will address those, going beyond your expectations. She's fascinated by her major. No obstacle can stop her from helping others fulfill their aims!

Dentistry
Would you like to get a professionally crafted fellowship personal statement in dentistry? David is the best medical specialist for this task! He is abundantly practiced in writing, extremely qualified in his field, and just a rational person. Loosen up! Your trust in David will pay off.

Anesthesiology
One feature that makes Ben an exceptional medical specialist is that he always composes each anesthesiology personal statement sample the way he would if his own fellowship enrollment chances were at stake. Ben is always highly sympathetic to his clients. Besides, he constantly tries to determine the anesthesia admission board's expectations of fellowship candidates. Furthermore, his rating is admirable.

Family Medicine
Conor is a highly gifted medical expert. His competence in family medicine and all of its subspecialties is immeasurable. Conor Draper is the best choice you can make today to order a well-composed fellowship anesthesia personal statement!

CLIENTS' WORDS ABOUT ANESTHESIA PERSONAL STATEMENT FOR FELLOWSHIP
Customer: #458903

so grateful! captured my voice and personality perfectly.
Customer: #664390

Struggled with my fellowship personal statement a lot, so your help was what I needed. Thanks!
Customer: #904532

I was impressed with your professionalism and attention to detail. I feel confident in my statement now.
Customer: #660321

Great work, guys, thank you so much
Customer: #903384

Highly recommend! The best!
Customer: #667743

The communication throughout the process was excellent, and the writer's attention to detail is something amazing
Customer: #893423

thank you so much for the ability to revise it as I needed. 4 rounds in 2 days were the most impressive
Customer: #590392

writing just to say thank you. I've been accepted, and 80% of this praise is yours
4 SIMPLE STEPS TO YOUR WINNING PERSONAL STATEMENT FOR ANESTHESIOLOGY
Fill in the Gaps
This step is nothing but duck soup. Fill out the gaps to provide us with the requirements, and press the payment button! To make your personal statement for anesthesiology highly customized, our medical experts should be aware of particular info regarding your application: your accomplishments, the anesthesia fellowship program choice, and the admission board's formatting standards.

It would be extremely effective if you did not ignore our Questionnaire. Save it on your device, fill it out, and attach the file to the order form. All details shared by clients are hidden from third parties. All of your personal data are protected under strict confidentiality terms.
Download a questionnaire

Pay for Our Assistance
Once you pay for your fellowship anesthesia personal statement, our medical specialist will launch the process of creating your fellowship text. Do away with your worries because each money transaction process is secured. Besides, all clients get an email confirmation of a successful transaction.

Payment methods:


Secure:




Customer Area
Once we know about the confirmation of your payment, we will promptly send your Customer Area sign-in data. Modifications to your password are allowed if needed. Your Customer Area basically lets you directly get in touch with your author and support manager. What's even more, features such as saving your order, requests for amendments to the fellowship anesthesiology personal statement, and ordering new fellowship application docs are always at your disposal!


Stay Informed About Everything
To get updated on anything, check your email box. To ensure more profound supervision of your order, opt for SMS updates! When our author finishes your fellowship personal statement, our Quality Department will begin the verification process, discovering whether the order requirements were met. Afterward, you'll be able to enter the Customer Area and download it. The final copy of your fellowship anesthesia personal statement will be submitted timely or even earlier! If any amendments are needed, let us know in 14 days.


HOW CAN YOU TRACK YOUR ORDER PROGRESS

SMS Notifications & Email Updates
Opt for the most suitable method
of managing the order execution.

Customer Area
Contact your medical expert, receive completed
texts and assign other tasks in a breeze.

User Support
Reach out to our support staff in case you have
any order-related questions/remarks/comments.
Why You Need a Fellowship Personal Statement Anesthesiology
A personal statement is vital to applying for any medical residency program, and anesthesiology is no exception. It allows you to highlight your distinctive characteristics and experiences and explain why you are a great candidate for the chosen anesthesia fellowship program. Your academic and professional accomplishments should be more than just summarized in your personal statement anesthesiology application. They must reflect your character, subject enthusiasm, and goals for your career as an expert in anesthesia.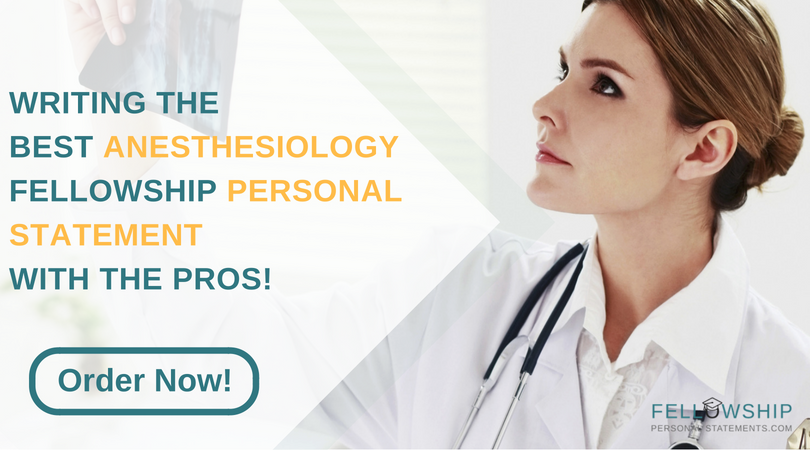 Admissions committees use fellowship personal statements to assess candidates' communication, critical thinking abilities, and program eligibility. Your chances of acceptance might rise with a solid anesthesia personal statement distinguishing you from other fellowship applicants. That is why it is essential to take this document seriously and devote enough time to it.
How to Create Your Own Anesthesiology Personal Statement Sample
Here are some important tips to help you write an effective anesthesiology personal statement for fellowship:
Begin with a compelling introduction: Start with a hook that captures the reader`s interest and demonstrates your enthusiasm for the anesthesia subject.
Highlight your relevant experiences: Talk about your clinical experiences, research efforts, and relevant activities that show your anesthesia passion. And yes, the key thing here is relevance – don't put facts in a fellowship anesthesia personal statement that don't relate to it.
Demonstrate your personal qualities: Candidates with strong problem-solving abilities, outstanding communication skills, and a commitment to patient care are highly valued by schools offering the best anesthesia fellowship programs.
Describe your career goals: State your long-term professional objectives and how the anesthesia program fits into them. If you are sure about the chosen specialty, mention it in your pediatric anesthesiology personal statement.
Edit and proofread your document: Ensure your writing is entirely free from grammatical errors, typos, and other mistakes. It will also be useful to study the context of the statement for compliance with the anesthesia fellowship program features.
Using these recommendations, you'll be well on your way to creating a stellar personal statement anesthesia residency program highlighting your abilities, experiences, and enthusiasm, which, in turn, convince the committee of your maturity and readiness to become their best fellowship applicant.
Personalize Your Fellowship Anesthesiology Personal Statement
To stand out from other applicants, you must personalize your personal statement fellowship anesthesiology. Thus, you can show your distinctive features in your writing by unveiling your abilities, experiences, and objectives, boosting them with your own voice. Remember, that fellowship personal statement is about your unique story, so don't try to impress the committee with cliches and copy-paste.
Customizing your anesthesiology fellowship personal statement entails making it relevant to the particular fellowship program you are applying for. Doing this may prove that you have studied the program and comprehend its principles, objectives, and requirements. You can also demonstrate the compatibility of your experiences and interests to the curriculum and how you can be valuable to the anesthesia program.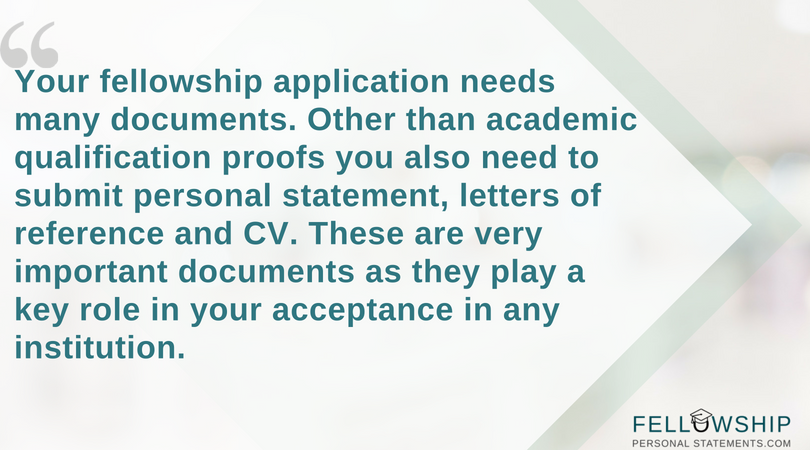 At our service, the secret to attaining your goal of being accepted into the anesthesia fellowship program lies in personalizing your statement. And you can also use this hack to strengthen your document through thorough customization.
Common Mistakes in Anesthesiology Fellowship Personal Statement
Writing a personal statement for an anesthesia fellowship can be daunting, and even the smallest errors can cost you the opportunity to be selected for a program. But, being aware of the typical fails in the anesthesiology personal statement sample may prevent you from making the common mistakes:
1. Being too general
One frequent mistake in the anesthesiology fellowship personal statement sample is generalizing too much. You should refrain from using cliché or phrases that might be applied to any candidate. Instead, emphasize your unique anesthesia experiences and qualifications to demonstrate how you differ from other applicants.
2. Not paying attention to grammar and spelling
The admissions committee may be offended by even minor mistakes. Thus, before submitting your document, proofread it numerous times or have someone else examine it.
3. Ignoring size requirements
Submitting an anesthesiology cardiac fellowship personal statement that is either too lengthy or too brief is another common mistake. Follow the anesthesia program's guidelines and word limit. In your writing, be concise and clear while covering all relevant facts. Moreover, an oversized personal statement will be shortened automatically if you're applying with ERAS, so consider it.
4. Adding too many details or irrelevant information
Moreover, some candidates could add offensive or irrelevant data in the fellowship anesthesia personal statement. Remember that this document is not the place to discuss sensitive subjects, emotional issues, or unrelated experiences. Also, be careful with details – you can get too carried away and move away from the story's central theme.
Consequently, it is crucial to steer clear of these errors when composing an anesthesia personal statement for fellowship. If you do this, you'll have a higher chance of impressing the admissions panel and getting accepted into the program of your choice.
Anesthesiology Residency Personal Statement – Let Experts Help
Using writing services can be a smart move when it comes to crafting a personal statement. Receiving expert help to write personal statement for anesthesiology residency can give you a competitive edge and boost your chances of getting admitted into the school you want. Writing services like ours offer specialized, personalized help to ensure the personal statement is top-quality and meets the anesthesia program's requirements.
By working with us, you'll get a standout personal statement for anesthesiology that meets all program standards while highlighting your unique qualities and achievements. Also, thanks to our unlimited revisions policy, you can be assured that your writing will be flawless before submission.

A weak anesthesiology residency personal statement shouldn't ruin your desire to become an anesthesiologist. At our service, we recognize the value of a compelling document in applying for an anesthesia program residency. You can get assistance from our team of skilled writers in crafting some engaging anesthesia fellowship documents that will showcase your unique abilities and impress the admissions committee. To discover more about our offerings and how we can aid you in achieving your goals, get in touch with us right now.
Count on us to assist you in getting accepted into the anesthesia residency program!