Your Fellowship Personal Statement Is Vital to Your Application Package
The only part of the whole application and admission procedure that allows you to address the admissions committee directly and in your own words is your medical personal statement for allergy immunology fellowship. The board will be looking out for more information about who you are as an individual, what your aspirations stand for and how you want to reach the goals that you set for yourself. Through your statement you are allowed to sell yourself directly while introducing yourself to the committee. To do this the right way is far from easy to achieve, it takes a lot of experience and insight. For this reason you may decide to employ our writing services for support.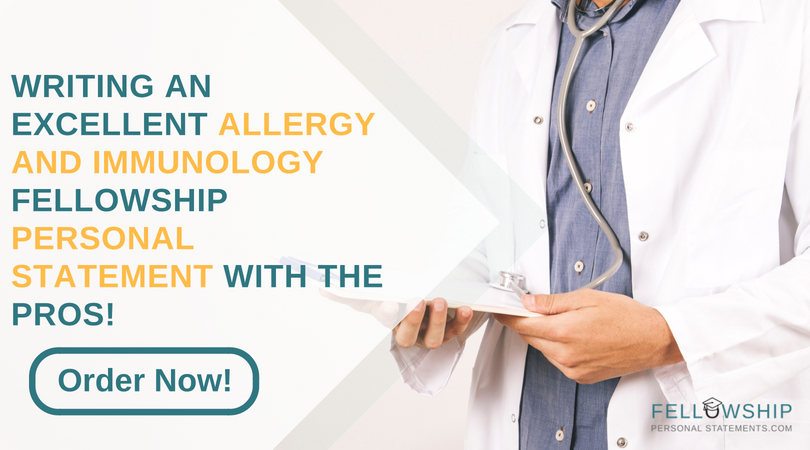 Some Tips and Ideas on How to Write Your Best Allergy and Immunology Personal Statement
The content, as well as the presentation,are vital elements of your writing when setting out to write a medical fellowship personal statement. To write a good fellowship personal statement the following areas should be carefully considered:
Clear and precise language – Simple language will be more appreciated when it is concise and direct. Avoid an abundance of adjectives and adverbs.
No clichés and quotations – Own word usage is required
Think of a theme – Use this as a basis to build your statement and it will help with the structure and content building
Improve your spelling and grammar to elevate your chances
Review and proofread – A first draft is never the final version and can be improved on.
Our Sample Allergy and Immunology Personal Statement
Our simple example will provide you with some ideas as to how you can begin writing your own personal statement for fellowship application:
"I originate from a healthy family in Utah with a family history that promises a long and healthy life until the age of 80. We were never much affected or bothered by sicknesses and diseases like many other unfortunate folks in our small home town. Our neighbors are a completely different story and it started with my best friend Sam. Whenever we had rains in our arid place and the flowers started to bloom Sam started sneezing. Upon discussing this with my dad I was appalled to find out that everybody has some kind of allergy, some just are not aware of their potential for allergic reactions.At about that time an uncle of mine pasted away due to an immunity system deficiency and I learned that allergy and immunology are connected fields in medicine. I was also made by a doctor in that hospital that this area of medicine still contains many secrets that desire to be unlocked, as he phrased it.
At this early stage in life I was enchanted by the endless possibilities this would grant me to help others that were not as fortunate with their health as my beloved family was.
During my medical studies I already worked closely with the respective doctors in our local hospital that treat the financially unstable population. There the thankful doctors taught me many useful things about the diseases and how to counter them. This understanding I want to deepen by applying for this fellowship in allergy and immunology."
We offer an uncomplicated way for utilizing our writing help when composing your personal statement for allergy and immunology fellowship or neurosurgery fellowship personal statement:
Attach your draft and place the order: Due to our 24/7 availability you can fill out the form and place an order anytime. You will avail of our full confidentiality that starts immediately.
Transfer the payment: Unfortunately ,we cannot work for free, please transfer the funds using our well known and secure payment channels that are trusted by most people online. You will be covered by our money back guarantee.
Communicate with our writer: To enable us to write your personal statement for an allergy immunology fellowship we require specific information. Our writer will contact you to gather all that will be needed in order to be able to write the best medical personal statement for you.
Receive the first draft: After having received the first draft review it, you are entitled to an unlimited number of revisions.
Receiving the final document: After all requested revisions have been entertained demanding proofreading and testing for plagiarism will take place. Delivery will be on-time as promised.
Employing our personal statement help is easy and if you need help please contact us online today for your very own personal statement for allergy immunology fellowship applications!