Clinical Informatics Fellowship Personal Statement November 10, 2017
543
1406
Hundreds of applicants are applying for clinical informatics fellowship programs because they are one of the most popular majors offering lucrative careers for professionals. They are looking for medical tech jobs in the future. If you are one of those hundred applicants, knowing about the application process will help you as good as fellowship personal statement examples.
Physician Informatics: Fellowship Application Process
Yale University: The University is offering a Master of Health Sciences that focus on clinical informatics. What is health informatics? The degree is designed for postdoctoral informatics applicants who are clinicians. For Yale clinical informatics fellowship application, here it is:
Complete application form.
Curriculum vitae.
1 or 2 page description of career objectives and experience.
3 letters of reference.
University of Columbia: Here is the application process of the CI fellowship program.
Completed application form.
Submit official dean's letters and medical school transcripts. These documents should be received by the program.
Applicants cannot submit their application until all these documents are submitted in the program system:
3 letters of recommendation.
Curriculum vitae.
Essay.
Medical school transcripts (applicants need to upload their unofficial transcript of record to submit their application. The official transcript of record should be received on the said submission deadline of the program).
ECFMG certificate if applicable.
USMLE scores.
Note: Applicants need to check the submission deadline of the program to know when they need to submit their application. Even though the applicants are not required to submit their application, you need to request that the dean's letter is submitted to the program.
Tips in Writing the Personal Statement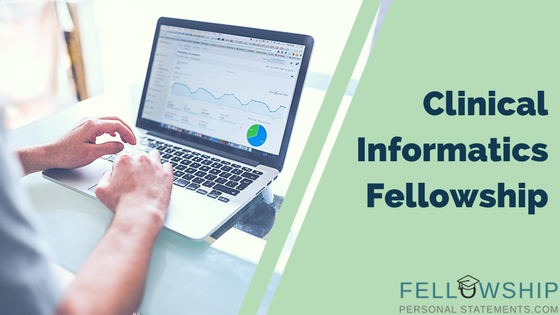 Some fellowship programs, such as the CCU fellowship programs, require applicants to construct a personal statement.  You can check this cosmetic surgery fellowship personal statement, in case you need one. The personal statement is one of the most essential components of clinical informatics application.
Follow directions: In writing the personal statement, you need to follow directions. Every university has different guidelines in writing personal statements, and if you do not want your essay thrown out just because you exceeded the page limit. There are schools that give explicit details on format, content, and length of the personal statement.
For instance, Drexel University provides guidelines in writing the essay. It should be under 1,000 words, giving the selectors understanding why applicants choose the program, what their plans upon completion of the degree are as well as how their work experience will enhance their experience in the program. Follow these guidelines if you want to become a certified pro and get entry-level medical engineering jobs for instance.
Be honest: Applicants need to ensure that their answers line up with their CV or resume. They should not exaggerate their accomplishments as well as skills. What they should do is to be proud of what they have achieved in the past years.
Write professionally and passionately: Writing a professional personal statement does not mean writing a scientific, bland paper. Applicants need to be consistent, concise and use clear examples. Be sure that the essay lucidly and succinctly portrays the applicant's passion to become a clinical informatics physician.
Make your case: Your personal statement should convince the selectors to select you. You need to write what makes you unique, why the selectors should admit you and why you can become a great clinical informatics physician. You need to tailor your essay to the program.
Begin with an outline: Having an outline helps you to begin brainstorming. You can use the outline to start writing the essay. You need to have an introduction, body as well as conclusion paragraph. The introduction and the conclusion should include a thesis and sub-topics summary. Every paragraph should discuss one subtopic.
Offer a story: It is hard to stand out and remembered by the admission committee, but if you try to tell a great story, you can construct a memorable essay. Stories can be anything such as a conversation with your mentor. To make your story interesting, you need to emphasize and illustrate key points. You need to write a story describing why you choose the program or one illustrating your best personal values.
Explain red flags: If you have red flags in your application, it is better to explain it in the essay. Do you have a low GRE score or a bad grade? Maybe you do not have enough experience. Rather than avoiding the topic, it is better to offer an accurate and clear explanation.
Give yourself enough time: Begin writing your essay weeks or months in advance. You need to give yourself enough time to brainstorm, create an outline, compose every paragraph, and revise as well as edit. If you submitted a rushed essay, then your essay might be included in the rejected files.
Use correct grammar and syntax: You need to proofread your personal statement for many times.
List of Clinical Informatics Fellowship Programs
| | |
| --- | --- |
| Stanford University | The clinical informatics fellowship Stanford is for clinicians looking to further their training. |
| UCLA | The UCLA clinical informatics fellowship focused on effective use of healthcare knowledge and biomedical information use. The American Board of Medical Specialties approved the program as board-eligible sub-specialty. |
| Yale University | The clinical informatics fellowship is a two-year program that gives ACGME approved training in all CI aspects. |
| WUSM | The clinical informatics fellowship WUSM is accredited by the Accreditation Council for Graduate Medical Education. |
| Harvard University | The clinical informatics fellowship Harvard gives a forum for researchers and clinicians to learn the clinical informatics field. |
Professional Personal Statement Service
If you are applying at clinical informatics fellowship Stanford University, OHSU, clinical informatics fellowship Harvard University or the University of Illinois, you are required to create a personal statement. If you cannot write a great personal statement, then online professional essay service can give you a quality personal statement. Their professionals are highly qualified who can construct a custom essay paper.
Personal Statement Length
Applicants can write up to 4,000 characters of test showing how great students they are. In writing the personal statement, it is better to limit your essay to 4,000 characters.
Application Timeline
April 3: Application period opens.
June 30: Practice time.
July 10: Application period closes.
July 11: Late application period opens.
August 31: Verification and documentation should be received by the program.
September 30: Training documentation, as well as verifications, should be received by the program.
October 16: Examination period opens.
October 28: Examination period closes.
There you have the details you need to know about the clinical informatics program. If you are applying for a fellowship, do your best to complete all the requirements, especially writing a unique and original personal statement.
Did you pick up something from this guide on clinical informatics fellowship? Get started or help from our pros in writing the best personal statements today!
Get Help
You May Also Like November 10, 2017
645
1671
Hundreds of applicants are applying for clinical informatics fellowship programs because they are one of the most popular majors offering lucrative careers for professionals. They are looking for m... Read More November 10, 2017
628
1626
Hundreds of applicants are applying for clinical informatics fellowship programs because they are one of the most popular majors offering lucrative careers for professionals. They are looking for m... Read More