ENDOCRINOLOGY FELLOWSHIP PERSONAL STATEMENT – GET EXPERT WRITING HELP
Apply early with an outstanding endocrinology fellowship personal statement prepared by our experts and increase your chances of successful admission.

Proficiency
in ERAS® Application

GUARANTEES WE PROVIDE FOR ENDOCRINOLOGY FELLOWSHIP PERSONAL STATEMENT
A winning fellowship personal statement is not only about writing but the quality & attention to details through the whole creation process.

Winning & Personalized Documents
Let our expert writers treat the committee with a unique and well-personalized fellowship personal statement we'll create for you from scratch with the information from the filled questionnaire. We'll find & use the best traits to make you shine.

Tailored to Your Chosen Program
Our experts will thoroughly review each endocrinology fellowship personal statement to guarantee adherence to the fellowship program criteria. Also, we will consider your field of study and highlight all course-related features proving your best fit.

Conformity With the ERAS® & EFDO Requirements
Every endocrinology fellowship personal statement we produce is created by highly competent medical experts in strict accordance with the ERAS® application system requirements and with compliance with EFDO standards.

97% Acceptance Rate Among Customers
Thanks to an individualized approach to each client and striving to do our best with their endocrinology fellowship personal statement, 97% were matched to their preferred programs. So trust us and become the next successful candidate!

Assigning to Medical Degree Holders
Aside from being exceptionally good writers, all our experts hold medical degrees. So your endocrinology fellowship personal statement will be tackled by a proficient professional with appropriate field expertise and a checked background.

Fast Turnaround & Timely Delivery
Regardless of the deadline you set, professionals will meet any, getting started with your endocrinology fellowship personal statement as soon as they receive all the necessary instructions and details about your chosen fellowship program.
We are experts in writing :
Letter of Recommendation
Application Resume
MSPE, AND MORE!
Statement of Purpose
Personal Statement
ERAS Application Form Completion
And More!
EXTRA BENEFITS YOU'LL GET WITH YOUR ENDOCRINOLOGY PERSONAL STATEMENT

Chat With the Expert Directly
To ensure your endocrinology fellowship personal statement is well-crafted and impactful and follows all your requirements, communicate with the author directly 24/7, asking any questions or making comments.

Money-Back Is Available
Delegating writing an endocrinology fellowship personal statement to our writing experts, you can not worry about wasted money because if there's something wrong and we cannot fix it, your funds will be returned back.

14 Days of Unlimited Edits
It is OK if you need to edit or improve something in an endocrinology fellowship personal statement – you can do it here without charge. Take the most from the unlimited edits within 14 days after the order delivery.

Simple & Сlear Workflow
Thanks to years of practice, we already have a proper work process – place an order, pay for service conveniently, and enjoy total control over the writing process and other customer features available in your personal account.

Complete Payments Safety
You can be assured of reliable money transactions as we cooperate only with the most reliable & robust payment partners. Thanks to advanced software, we guarantee complete payment data security and confidentiality.

Fully Confidential Cooperation
If you are worried that someone will know that you have ordered the writing of an endocrinology fellowship personal statement, it is unnecessary because all personal data and data about the order are strictly confidential.
MEET OUR BEST ENDOCRINOLOGY FELLOWSHIP PERSONAL STATEMENT WRITERS
Our team comprises only professionals with verified backgrounds and vast experience creating standout fellowship personal statements that win.

Diploma Holders

Adepts in Every Medical Specialization

Masters of Efficient Success-Oriented Strategies

Resourceful in the Creation of Texts

Accomplished Document Writers

Internal Medicine
Emmy is a virtuoso when we speak about IM. Gastroenterology and nephrology are her top areas. Nevertheless, she is practiced in all of the IM subspecialties. You will not need to ask Emmy to be precise about the requirements – it is her habit already! Order an endocrinology fellowship personal statement from her, and Emmy will prepare it for you in an ideal manner.

Radiology
All branches of radiology and even breast imaging are the medical spheres that Philip will manage with his eyes closed. Crazy about smooth transitions, cohesive text structure, and immaculate grammar, Philip will write a winning fellowship personal statement in two shakes.

Pathology
Cristian readily devotes himself to the hardest orders that somehow relate to chemical, clinical, pediatric, and other fields of pathology. Even so, Cristian is competent in nearly all the subspecialties that pathology has to offer. Tight deadlines, tons of info, and even days off cannot discourage Cristian when he aims to treat you with the best endocrinology fellowship personal statement. He makes us proud, as countless customers prefer him!

Pediatrics
Nothing is weightier to Alyce than children and their overall well-being. Right after this comes Alyce's wish to go to bat for applicants on their way to enrollment in the fellowship program. Let all of your doubts go. You can hardly find a more trustworthy endocrine fellowship personal statement writer online than Alyce.

Surgery
Whether it's plastic, thoracic, or any other type of surgery, Bonnie tackles all tasks related to this medical field in an instant. Describe your fellowship personal statement requirements, and Bonnie will address those, going beyond your expectations. She's fascinated by her major. No obstacle can stop her from helping others fulfill their aims!

Family Medicine
Conor is a highly gifted medical expert. His competence in family medicine and all of its subspecialties is immeasurable. Conor Draper is the best choice you can make today to order a well-composed personal statement for endocrinology fellowship!

Anesthesiology
One feature that makes Ben an exceptional medical specialist is that he always composes fellowship personal statement the way he would if his own fellowship enrollment chances were at stake. Ben is always highly sympathetic to his clients. Besides, he constantly tries to determine the admission board's expectations of candidates. Furthermore, his rating is admirable. Working for us, Ben did not even once submit an order after the deadline expiration.

WHAT STUDENTS THINK ABOUT THEIR ENDOCRINE FELLOWSHIP PERSONAL STATEMENT
Customer: #459085

you did a great job with my statement, so it really showcases my strengths now.
Customer: #499034

Initially, I hesitated to use a writing service for my personal statement, but I'm so glad I did! The final result exceeded all my expectations. Bravo!
Customer: #455890

very communicative and responsive writer. thanks a lot
Customer: #785490

What's attention to detail! Perfect work!
Customer: #809435

lovin all your experts. Came here for the third time and was accepted with your help again :)
Customer: #889943

You are the best in the business, just know it!
Customer: #569043

Amazingly quality work!
Customer: #708543

The turnaround time for my personal statement was surprisingly quick, but I didn't feel like the quality of the work suffered in any way
HOW WE WORK ON ENDOCRINOLOGY FELLOWSHIP PERSONAL STATEMENT
Fill in the Gaps
This step is nothing but duck soup. Fill out the gaps to provide us with the requirements, and press the payment button! To make your endocrinology fellowship personal statement highly customized, our medical experts should know about your fellowship application's accomplishments, the program choice, and the admission board's formatting standards.

It would be highly effective if you did not ignore our Questionnaire on the endocrinology fellowship personal statement. Save it on your device, fill it out, and attach the file to the order form. All details shared by clients are hidden from third parties. All of your personal data are protected under strict confidentiality terms.
Download a questionnaire

Pay for Our Assistance
Once you pay for the endocrinology fellowship personal statement, our medical specialist will launch the process of creating your fellowship text. Do away with your worries because each money transaction process is secured. Besides, all clients get an email confirmation of a successful transaction.

Payment methods:


Secure:




Customer Area
Once we know about the confirmation of your payment, we will promptly send your Customer Area sign-in data. Modifications to your password are allowed if needed. Your Customer Area basically lets you directly get in touch with your author and support manager. What're even more, features such as saving your order, requests for emendations to the endocrinology fellowship personal statement, and ordering new fellowship application docs are always at your disposal!


Stay Informed About Everything
To get updated on anything, check your email box. To ensure more profound supervision of your order, opt for SMS updates! When our author finishes your endocrinology fellowship personal statement, our Quality Department will begin the verification process, discovering whether the order requirements were met. Afterward, you can enter the Customer Area and download it. The final copy of your fellowship personal statement will be submitted timely or even earlier! If any amendments are needed, let us know in 14 days.


HOW CAN YOU TRACK YOUR ORDER PROGRESS

SMS Notifications & Email Updates
Opt for the most suitable method
of managing the order execution.

Customer Area
Contact your medical expert, receive completed
texts and assign other tasks in a breeze.

User Support
Reach out to our support staff in case you have
any order-related questions/remarks/comments.
What Is Personal Statement for Endocrinology Fellowship?
A personal statement is a small document attached to your fellowship application package. It introduces your personal and professional experience, reasons for pursuing endocrinology, and how an endocrinology fellowship matches your career goals. By specifying your strengths, skills, and experience in a personal statement for endocrinology fellowship, you can highlight your professional passion, any relevant clinical or research experience, as well as your ambitions and career aspirations.
Why Endocrinology Fellowship Personal Statement Is So Important?
The selection process for medical fellowship programs involves intense competition, especially in endocrinology. The number of practicing endocrinologists is expected to increase by 25 percent this decade as competition for fellowship positions grows steadily, especially in recognized hospitals and schools. Therefore, your medical fellowship personal statement for admission is crucial.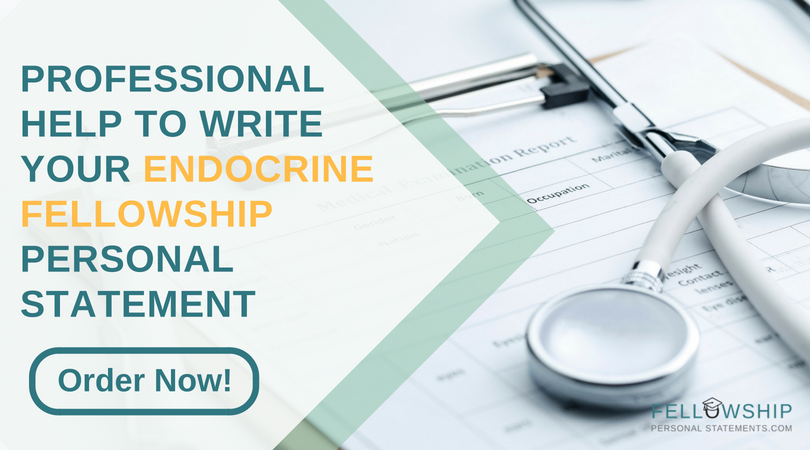 The endocrinology fellowship personal statement shows the reader why endocrinology is your desired specialty and promotes you as an outstanding candidate. So it should be eye-catching from beginning to end and free of grammatical errors. To meet these requirements, students should clearly understand the structure of writing a quality fellowship personal statement, know well what to put into it, and tailor it to the particular fellowship program.
What Will Be Included In Your Endocrinology Personal Statement?
Honesty and integrity are essential when writing your endocrinology personal statement for fellowship. To convince the admissions committee that you are the candidate they are looking for, you must:
Explain your initial interest in endocrinology and how it led you to choose the fellowship.
Tell about your subsequent clinical or research experiences that validated your career goal.
Highlight all learning experiences with endocrinology mentors to emphasize your interest in the field.
Demonstrate unique qualities or skills that will make you valuable to the fellowship program, and adapt an endocrinology personal statement to its features.
Point out details in the Clinical Experience section that indicate that endocrinology is your preferred profession and that you know the problems that practitioners face.
Under "Research Experience," list research projects related to endocrinology.
Explain how an endocrinology fellowship will further your career goals and indicate why you should be considered for an internship position without being arrogant or overly modest.
Pick Up Some Good Personal Statement for Endocrinology Fellowship Samples
Now you know why endocrinology fellowship personal statement is so important. And before you get started with your own document, our experts recommend finding some ready-made samples to familiarize yourself with doc structure, formatting, and ways of information placement. You shouldn't need to copy-paste from these fellowship personal statement samples, but you can get inspired by some good ideas that helped others succeed.

"Growing up, I was assumed to become a doctor, attorney, or engineer. I come from a blue-collar background, and on every occasion, my father would mention this when discussing my future career: "I work with my hands, but not my kid. My kid will be a doctor or a lawyer." Then he would pause. "Maybe an engineer." He was always curious to know if engineers earned the respect that doctors and lawyers had.
I was a good student, and despite the thousands of times I heard him trot out his usual line at family gatherings, I never felt pushed into a field I didn't want. As I got older, my interests were focused on medicine, which became my main area of expertise. Once I`ve made my decision, lawyers and engineers were dropped from the speech, and Dad didn't have to think about where engineers should be placed in the career status hierarchy.
I chose to complete my residency in a general internal medicine. The variety of cases it offered appealed to me, as did the challenge of diagnosing a problem. Early in my residency training, my mother was diagnosed with diabetes. Since she has a good doctor, it is not difficult for her to control this disease. To explain the diagnoses and treatment to my father, I researched on my own and developed an interest in endocrinology. I was lucky to take part in the diabetes research program under Dr. J. Jones, and recently my paper on diabetes prevention was published in the National Medical Magazine. My involvement in the research has only whetted my appetite to delve deeper into the subject.
Your Endocrinology fellowship program strongly focuses on research which matches the direction I would like to take in my future studies. I feel that my background and experience to date make me an ideal candidate for your Endocrinology fellowship program. I appreciate your time and consideration to my application."
Get Help From Our Proficient Admission Experts
Don't worry if you are stuck with your admission documents, as here are the best writing experts who are always ready to help you. Just ask us 'write my personal statement endocrinology fellowship' and wait for a little while the assigned specialist prepares one. We follow specific procedures to ensure you are satisfied with our writing service. Thus, the writers will deliver the first personal statement for residency by the deadline you set, it will be proofread and guaranteed to be original. Moreover, we address all the unique program features and demands, emphasizing your traits and background, which proves you're the best match.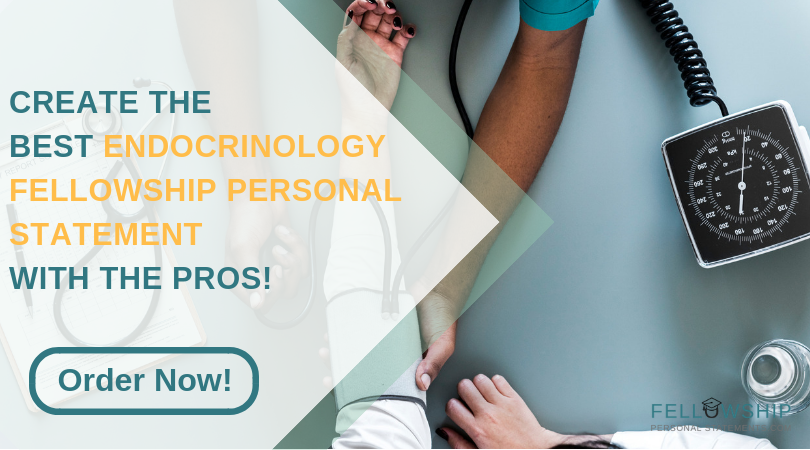 Improve your acceptance chances dramatically by getting a well-customized and polished fellowship endocrinology personal statement now!