LET US MAKE A RADIOLOGY PERSONAL STATEMENT THAT HELPS YOU STAND OUT
Get the advantage of cooperation with professional writers to make a standout fellowship personal statement leading you to a win.

Proficiency
in ERAS® Application

YOUR GUARANTEES OF GETTING RADIOLOGY PERSONAL STATEMENT THAT SUCCEEDS
The winning radiology personal statement is a well-composed and personalized one, and here, you can get it right now.

Winning & Personalized Documents
We create every personal statement radiology fellowship from the ground up without templates or pre-written content. Instead, we use your own materials and information from the questionnaire to achieve the best personalization.

Tailored to Your Chosen Program
Our experts create each personal statement, carefully tailoring it according to the chosen radiology program. It's essential to us to ensure that all the requirements and standards are met and that your best traits are emphasized.

Conformity With the ERAS® & EFDO Requirements
Every fellowship radiology personal statement we produce is created by highly competent medical experts in strict accordance with the ERAS® application system requirements and with compliance with EFDO standards.

97% Acceptance Rate Among Customers
According to polls and statistics gathered in recent times, there's a 97% acceptance rate among those who ordered personal statement fellowship radiology samples. So you can join those lucky guys by hiring our experts to help.

Assigning to Medical Degree Holders
Aside from being exceptionally good writers, all our experts hold medical degrees. So your fellowship radiology personal statement will be tackled by a proficient professional with appropriate field expertise and a checked background.

Fast Turnaround & Timely Delivery
From now, missing deadlines are no longer an actual problem thanks to our rocket-fast writers. Without compromising the quality, they do everything really quickly, bringing your personal statement fellowship radiology on time or earlier.
We are experts in writing :
Letter of Recommendation
Application Resume
MSPE, AND MORE!
Statement of Purpose
Personal Statement
ERAS Application Form Completion
And More!
MORE PERSONAL STATEMENT RADIOLOGY FELLOWSHIP BENEFITS

Chat With the Expert Directly
Stay in touch with your writer 24/7 with an option of direct communication. Discuss the details of your personal statement fellowship radiology, eliminate issues, and do everything to make the final version look outstanding.

Money-Back Is Available
Whether your plans are changed and you don't download the finished copy, or you don't like something in your personal statement radiology fellowship we can't fix, feel free to claim a refund. Your money will be returned soon.

14 Days of Unlimited Edits
Sometimes, the finished text may require some changes or improvements. So after receiving the fellowship radiology personal statement, you have two weeks to implement any modifications you want without any charge.

Simple & Сlear Workflow
The process of working with us is pretty simple. You place an order with your requirements for the fellowship radiology personal statement, pay online conveniently, and benefit from the Customer Area to monitor the order execution.

Complete Payments Safety
Pay for our writing assistance securely, as each transaction made is defended. You can also choose from multiple convenient payment methods, remaining calm, as all your payment data & private information are entirely protected.

Fully Confidential Cooperation
All your personal data and information about our work on the personal statement radiology fellowship documents are completely confidential, so no one will know you use expert help. Moreover, no data will be shared, lost, or resold.
MEET OUR BEST RADIOLOGY PERSONAL STATEMENT WRITERS
Having great experience in writing application documents and knowing all dos & don'ts of admission processes, they'll do their best for you.

Diploma Holders

Adepts in Every Medical Specialization

Masters of Efficient Success-Oriented Strategies

Resourceful in the Creation of Texts

Accomplished Document Writers

Internal Medicine
Emmy is a virtuoso when we speak about IM. Gastroenterology & nephrology are her top areas. Nevertheless, she is practiced in all of the IM subspecialties. You will not need to ask Emmy to be precise about the requirements – it is her habit already! Order a personal statement fellowship radiology from her, and Emmy will prepare it for you in an ideal manner.

Radiology
All branches of radiology and even breast imaging are the medical spheres that Philip will manage with his eyes closed. Crazy about smooth transitions, cohesive text structure, and immaculate grammar, Philip will write a winning fellowship radiology personal statement in two shakes.

Surgery
Whether it's plastic, thoracic, or any other type of surgery, Bonnie tackles all tasks related to this medical field in an instant. Describe your personal fellowship statement requirements, and Bonnie will address those, going beyond your expectations. She's fascinated by her major. No obstacle can stop her from helping others fulfill their aims!

Pathology
Cristian readily devotes himself to the hardest orders that somehow relate to chemical, clinical, pediatric & other fields of pathology. Even so, Cristian is competent in nearly all the subspecialties that pathology has to offer. Tight deadlines, tons of info, and even days off cannot discourage Cristian when he aims to treat you with the best radiology personal statement fellowship. He makes us proud, as countless customers prefer him!

Anesthesiology
One feature that makes Ben an exceptional medical specialist is that he always composes personal statements the way he would if his own fellowship enrollment chances were at stake. Ben is always highly sympathetic to his clients. Besides, he constantly tries to determine the admission board's expectations of candidates. Furthermore, his rating is admirable. Working for us, Ben did not even once submit an order after the deadline expiration.

Pediatrics
Nothing is weightier to Alyce than children and their overall well-being. Right after this comes Alyce's wish to go to bat for applicants on their way to enrollment in the fellowship program. Let all of your doubts go. You can hardly find a more trustworthy personal fellowship statement writer online than Alyce.

Family Medicine
Conor is a highly gifted medical expert. His competence in family medicine and all of its subspecialties is immeasurable. Conor Draper is the best choice you can make today to order a well-composed personal statement for radiology fellowship!

CUSTOMERS ABOUT PERSONAL STATEMENT FOR RADIOLOGY FELLOWSHIP
Customer: #345893

Excellent writing, thank you so much!
Customer: #487890

Nicely done, many thanks!
Customer: #450094

I definitely wouldn't have completed it myself. The writer did a great job!
Customer: #339045

Why didn't I know about this writing service before? The writer who worked with me was attentive and polite! Totally satisfying experience!
Customer: #578305

Despite some typos, it's still a great text
Customer: #900435

Very nice, thank you!
Customer: #785083

Thanks a lot, I`m very satisfied!
Customer: #669566

Great document, thank you very much!
GREAT FELLOWSHIP PERSONAL STATEMENT IN JUST 4 STEPS
Fill in the Gaps
This step is nothing but duck soup. Fill out the gaps to provide us with the requirements, and press the payment button! To make your radiology personal statement fellowship highly customized, our experts should know about your fellowship application's accomplishments, the program choice & the admission board's formatting standards.

It would be highly effective if you did not ignore our Questionnaire on the fellowship radiology personal statement. Save it on your device, fill it out, and attach the file to the order form. All details shared by clients are hidden from third parties. All of your personal data are protected under strict confidentiality terms.
Download a questionnaire

Pay for Our Assistance
Once you pay for the radiology personal statement, our medical specialist will launch the process of creating your fellowship text. Do away with your worries because each money transaction process is secured. Besides, all clients get an email confirmation of a successful transaction.

Payment methods:


Secure:




Customer Area
Once we know about the confirmation of your payment, we will promptly send your Customer Area sign-in data. Modifications to your password are allowed if needed. Your Customer Area basically lets you directly get in touch with your radiology statement author & support manager. What're even more, features such as saving your order, requests for emendations to the fellowship radiology personal statement, and ordering new fellowship application docs are always at your disposal!


Stay Informed About Everything
To get updated on anything, check your email box. To ensure more profound supervision of your order, opt for SMS updates! When our author finishes your personal statement radiology fellowship, our Quality Department will begin the verification process, discovering whether the order requirements were met. Afterward, you'll be able to download it from the Customer Area. The final copy of your personal statement for radiology fellowship will be submitted timely or even earlier! If any amendments are needed, let us know in 14 days.


HOW CAN YOU TRACK YOUR ORDER PROGRESS

SMS Notifications & Email Updates
Opt for the most suitable method
of managing the order execution.

Customer Area
Contact your medical expert, receive completed
texts and assign other tasks in a breeze.

User Support
Reach out to our support staff in case you have
any order-related questions/remarks/comments.
Personal Statement for Radiology Fellowship Application
A fellowship application requires candidates to prepare a personal statement based on which the committee decides on their acceptance. Depending on the chosen radiology program, this document may have different requirements, but almost every program positions it as a mandatory application task. So you undoubtedly will need to prepare a personal statement for radiology fellowship and make it supremely confident, showing your interest in the subject and program to succeed with.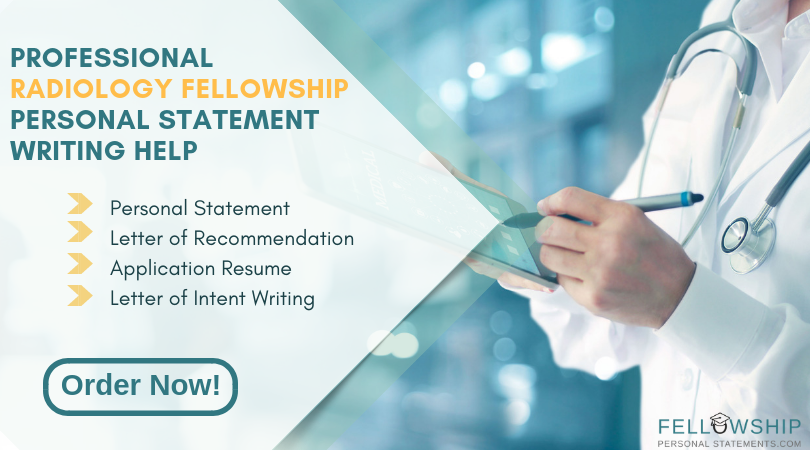 While writing a personal statement, you need to provide all the important information about yourself, your motives, accomplishments & aspirations. Moreover, the information should be distributed evenly in the personal statement fellowship radiology and attract the readers to your personal story. Sounds complicated a little, isn't it? But with our experts' help & tips, you can make this writing task much more manageable.
Common Personal Statement Radiology Fellowship Mistakes
Creating a personal fellowship statement could be challenging even for experienced individuals. Not because they don't understand something now but because they didn't understand it a time ago but were too lucky to have the committee forgive their gaps. However, if there's an option to avoid issues, why not use it? Let's take a look at typical issues in a personal statement for a fellowship and analyze them.
Forgetting about the target audience
Whether you write a radiology personal statement fellowship or other admission documents, it will be read by the admissions officers and/or program directors, who usually see hundreds of such writing pieces. So, aiming to impress them with your personal story, don't forget that they still stay officials, and your fellowship personal statement is still formal writing.
Admission officers want to see mature & professional individuals who explain their thoughts clearly and without familiarity. Avoid also mentioning things that don't correlate with your radiology fellowship and keep a formal tone.
Over-focusing on someone else's story
Adding fragments with someone's mentioning in the interventional radiology fellowship personal statement is OK if they've affected a lot in developing your professional passion. However, you should focus on yourself without stepping up from the frame. For example, if someone has affected your self-development a lot, write a few sentences about the case, and move on.
Oversharing the information
There's no need to mention everything from your biography. A palliative care hospice fellowship personal statement is a limited-length writing where you should mention only necessary information. A whole paragraph about your childhood memories when you played a doctor won't be a weighty argument for the radiology program officials.
Consider adding only noteworthy information. For example, describe the situation that made you choose the radiology field in medicine. Maybe you were inspired by someone's research and decided to perform your investigation. That sounds interesting. Develop these ideas and tell in the personal statement radiology fellowship what you expect to learn when being a fellow and how you will perform your research.
Hiding red flags or lying about gaps
While writing the fellowship application personal statement, the negative experience you were unsatisfied with, any gaps or professionalism should be managed very carefully. You shouldn't hide these cases or lie about them. However, if you have many lemons, make a lemonade, turning red flags into an advantage, or things make you unique. Say something like, "This experience taught me to be more attentive to others. I developed communication with patients, understanding their needs and helping them more."
Best Radiology Fellowship Programs to Apply
If you are not sure about the fellowship program you want to get into, below are some excellent options you may choose from.
We can help with the personal statement radiology fellowship for one of these programs and any other you select. In any case, our writing experts will create a document that matches all the program requirements and will be 100% tailored to it.
More Tips on Interventional Radiology Fellowship Personal Statement
Maintaining high quality is essential, whether it's a personal statement or any other application document writing. There's no need to test how attentive institution officials are as they can easily detect the issues, especially when they need to select from several fellowship applicants. So, to ensure no typos, grammar mistakes, or other mistakes are left, edit your personal statement using these methods.
Check the outline and compare the text's points with the plan's points. Ensure you added everything you wanted. Remember that you aim to present yourself as a fellowship candidate, focusing on strengths.
Read the text aloud. Hearing the body radiology fellowship personal statement is much better than just reading it, as you may lose something when working with the exact text several times. In addition, such an option allows one to find mistakes faster, immediately correcting them.
Look for thematic samples. Writing something from scratch becomes less complicated once you have an example. It's more like a writing guide to ensure you don't get confused or make other mistakes but adequately put all the needed information into the radiology statement's body.
The Example of Personal Statement Fellowship Radiology
Continuing the thoughts from what was said before, we share the example of personal statement fellowship radiology writing. It could become both an inspirational tool or a guide to help you understand how to express thoughts correctly and what accents the statement should include.

Remember that the word count is limited, and you should not make your musculoskeletal radiology fellowship personal statement over the volume the officials consider. The first time it seems you have a lot of space to express yourself. However, when individuals start writing and adding their countless accomplishments, it turns out that even a few thousand words are not much. So, you need to operate with information carefully, adding topic-related statements only. Create the first draft of your fellowship statement, and than delete less-meaningful fragments and decide which will be the most impactful.
Body Radiology Fellowship Personal Statement Writing Help
Complex tasks require a comprehensive approach, especially when a place in the fellowship program is on the line. No one wants to miss an opportunity, so applicants are ready to use all ways, helping them achieve their goals. So by engaging writing experts to handle personal statement radiology fellowship is one of the best decisions they can make. If preparing application docs seems too complicated, or you just don't want to do it yourself, don't hesitate to turn to our service!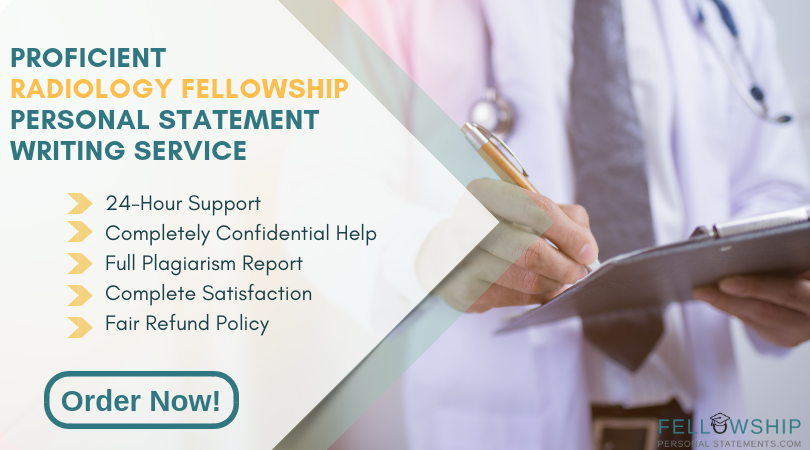 Our professional writers are always ready to help clients cope with their writing tasks quickly & effortlessly. Regardless of the specialization choice, the number of documents (if you prepare multiple fellowship applications) & the deadline, we aim to achieve the best quality and finish your radiology personal statement on time. You will cooperate with reputable admission experts with verified backgrounds, each of whom has vast experience writing cover documentation.
Contact us today and use your chance to get a place in the desired fellowship radiology program!