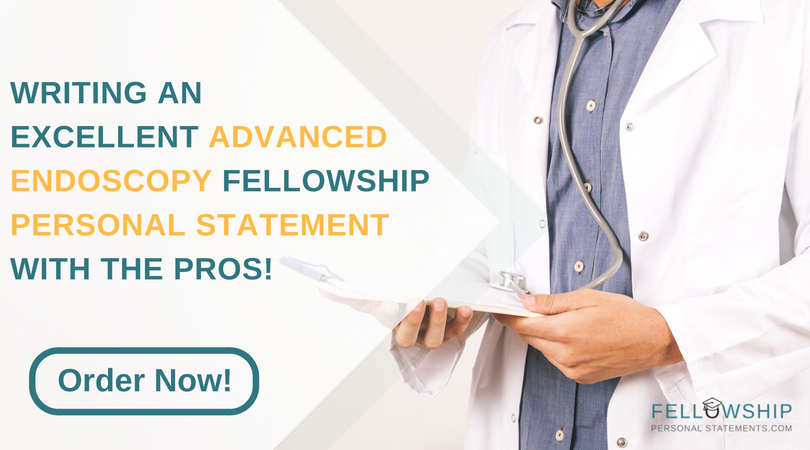 When applying for an advanced endoscopy fellowship, your personal statement should be error-free and highlight the best qualities you have. But writing one can be a challenge, especially if you're not sure what to include or what selection committees are looking for. Since writing a pediatric personal statement or any other personal statement can be a scary process, receiving assistance can help calm your nerves and save you valuable time.
Advanced Endoscopy Explained
Advanced endoscopy is a medical breakthrough for treating patients suffering from digestive or liver problems. This medical field offers a different approach to internal issues. It allows for a direct internal approach for examinations without using invasive surgical procedures. There is no hospital stays involved and quick recovery times. Illnesses involving the intestinal tract, gallbladder, colon, and pancreas can be treated with advanced endoscopy techniques.
General Requirements for an Advanced Endoscopy Fellowship Application
Beginning the application process starts with knowing what documents you will need. The process of gathering documents can take some time, so you will need to be active in obtaining these. Start early to steer clear of extra stress.
Documents you will generally need are as follows:
ASGE (American Society of Gastroenterology Endoscopy) Application
Post-Undergraduate Education
USMLE (United States Medical Licensing Examination) Scores
Certification of Completion of Residency
Personal Statement
CV (Curriculum Vitae)
3 Letters of Reference
EUS fellowship application documents needed are a cover letter, Curriculum Vitae, and letters of recommendation. Documents can be uploaded using the eusfellowship.com website.
The ERAS fellowship application has specific documents that you will need:
MSPE (Medical Student Performance Evaluation)
Medical School Transcript
LoRS ( Letters of Recommendations)
Photograph
Personal Statement
PTAL (Post – Graduate Training Letter) – this is also known as a California letter. It is needed if you are applying for a fellowship in California. Take note that you will need to specify you are sending a California letter for those medical centers you are applying to.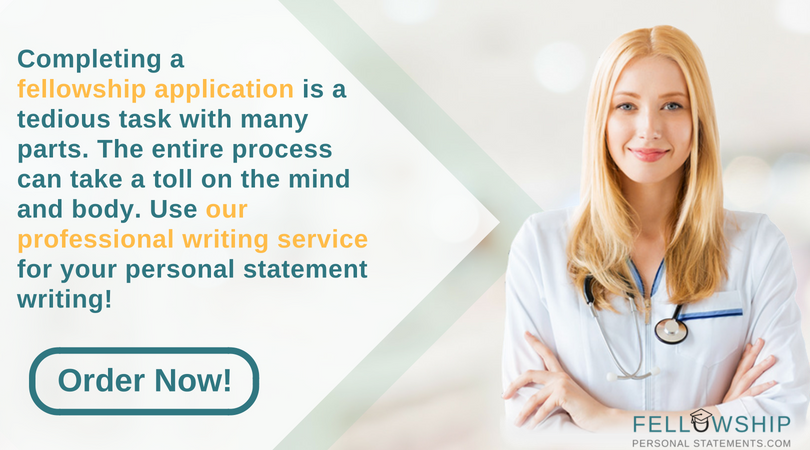 Tips for Structuring Your Endoscopy Personal Statements
As with any written document, structure is important to consider. A well-structured document speaks to the reader about your state of mind. The reader will know you are a mature candidate who has a lot to offer in the field of endoscopy. To begin the writing process, you will need to break down some questions. This will help you to begin a draft that will evolve into an exceptional piece of work:
Describe your reasons for applying to a particular fellowship program.
What can you contribute to the fellowship program?
What will you gain from the fellowship experience?
What are your interest(s) in public service?
How you will relate to the community you will be entering?
What you have learned from past experiences in leadership, community service, team efforts, and so on?
What are your career goals?
Once you have brainstormed answers to these questions, you will begin to write a rough draft of your document. Going through this process will allow you to make the necessary changes as you progress.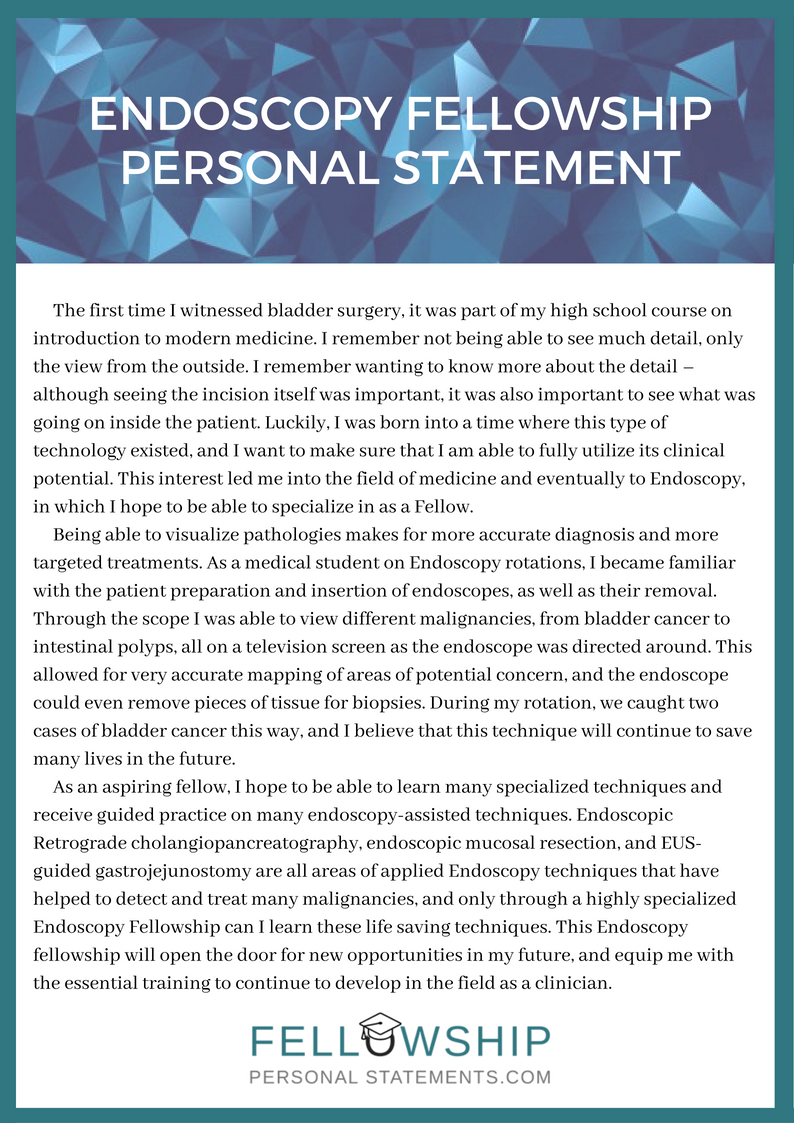 Procedures Involved in an Endoscopy Fellowship
Deciding on which advanced endoscopy fellowship you want at a certain location can depend on what procedures you want to focus on. You will need to decide whether to focus on pediatrics or adult specialities. While in your fellowship, you will be providing care for patients with a variety of disorders involving multiple organ systems. These will include the esophagus, stomach, intestines, colon, liver, pancreas, and gallbladder.
Having knowledge which covers such a broad spectrum can lead to an engaging and active career. The opportunities are endless, with procedures learned during your fellowship. You can develop as a general gastroenterologists or decide to dive into a sub-specialty. This is also the time to develop your research skills and participate in a study that could be ground-breaking.
Advanced Endoscopy Fellowship Specialities
There are six specialties related to advanced endoscopy. Each specialty offers a range of excellent choices to consider:
Interventional Endoscopy – This specialty focuses on using a flexible tube to thread a light and camera into the body and capture images of either the esophagus or the intestinal tract. The procedure is considered minimally invasive.
Bariatric Endoscopy – Procedures involved are Intragastric Balloons, Aspiration Therapy, Endoscopic Sleeve Gastroplasty, and Weight loss solutions.
Gastroenterology Advanced Endoscopy – The procedures in this speciality use specialized instruments to examine the digestive system. By getting a close-up look at the lining of the stomach, esophagus, pancreas, or rectum, suspected cancers can be identified and diagnosed.
Endoscopy Fellowship for Family Medicine – Family physicians with a speciality in advanced endoscopy can provide more complete care for their patients, particularly those in rural or underserved areas. With speciality training, family physicians can diagnose and treat a range of conditions more rapidly, as well as create strong professional relationships with colleagues in the field.
Pediatric Endoscopy – Fellows in this specialty gain the ability to perform endoscopic procedures in children and newborns.
Therapeutic Endoscopy – Therapeutic endoscopic procedures are of a higher complexity, and are typically "interventional" procedures. This will require additional training. These are not the typical diagnostic endoscopies performed in general office settings.
Advanced Endoscopy Fellowship Programs
Finding the right program is essential. While you research, let us help by noting the top fellowship programs in the country.
Mount Sinai Advanced Endoscopy Fellowship – This fellowship program features the opportunity to work with faculty who have expertise in GI diagnosis and treatment. Fellows learn advanced endoscopic techniques while serving a large hospital population, allowing access to a range of cases, pathologies, and procedures.
Columbia Advanced Endoscopy Fellowship – Fellows must be eligible to receive certification by the ABIM, and are expected to pass the ABIM exam during the first year of fellowship. Field experience is a plus. Research experience is a requirement.
UCLA Advanced Endoscopy Fellowship – Fellows will work with 3 faculty members in the division and will have the opportunity to work at sites, including UCLA Westwood and UCLA Santa Monica Medical Centers.
UCSD Advanced Endoscopy Fellowship – Fellows experience a variety of clinical settings. There are two tracks to rotate through as well.
University of Minnesota – This fellowship is a three-year training program that provides a variety of training experiences across five sites.
These top schools are ACGME accredited programs. This is an important attribute and will serve to guide you in your career. As you apply for a fellowship, take advantage of a ASGE advanced endoscopy fellowship. The ASGE offers matching services for making the best decision and fits for you!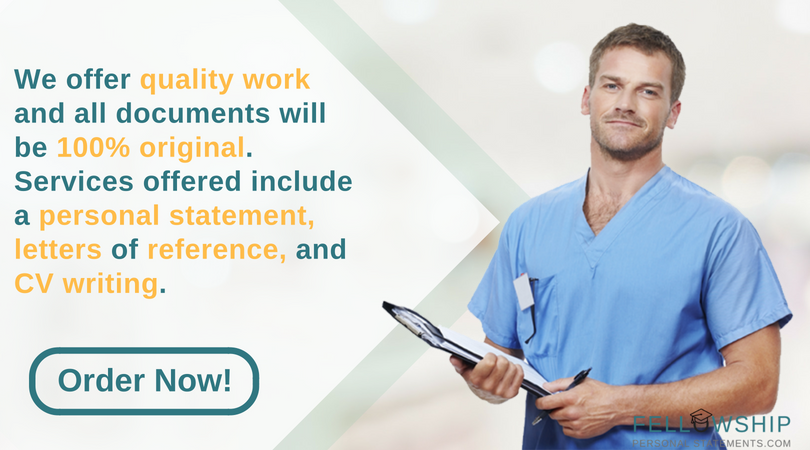 Writing Services for Advanced Endoscopy Fellowship Personal Statement
Why would you want to use a professional writing service for your personal statement? Investing in a professional writing service will secure you a spot in the fellowship of your dreams. Completing a fellowship application is a tedious task with many parts. The entire process can take a toll on the mind and body. Relieve yourself of the stress when you can. Using these services, you can develop a pediatric personal statement, gastroenterology personal statement, ERCP fellowship personal statement, or any other type of fellowship application personal statement.
Getting medical fellowship admission help is a valuable tool to have.
Fellowship Personal Statements: Professional Writing Service
Prices are something to consider when choosing a professional writing service. With Fellowship Personal Statements, prices are affordable, and they even offer an ERAs application document pack. With the ERAs package deal, you will receive a personal statement, CV, and 4 letters of recommendations. At Fellowship Personal Statements, we offer quality work and all documents will be 100% original. Services offered include personal statement, letters of reference, and CV writing.
Fellowship personal statements service offers a four-tiered guarantee:
Your fellowship application documents will be successful: Your documents will be proofread and checked for any plagiarism. Rest assured that your documents are original.
Results-oriented writer: They know what program directors are looking for and can get you the results you are hoping for.
Custom approach to every client: Writers are skilled in the area of fellowships. They work with clients to develop an approach that represents them well.
Focus on your strengths: Your personal statement is the only document in your application that is about you. Writers will focus on your strength to make your personal statement shine.
An advanced endoscopy fellowship personal statement is a document of great importance.
Do not wait, do not stress, and do not pass up an opportunity to land an excellent advanced endoscopy fellowship personal statement. Contact us today and make your dreams come true!