FAQ on How to Write a Fellowship Letter of Intent
Fellowship application scheduling makes tons of difference. Early admission plus a brilliant document are capable of getting you on the road to the winning streak!

Proficiency
in ERAS® Application

Quality Is Our Number One Aim
Disregarding the significance of quality is the best plan for failure.

Unique, Astonishing & Tailor-Made Docs
Be able to provide the committee with an original and customized doc. Use the opportunity to get distinguished from the crowd with your text! Enchant the admission officers once and for all!

Apposite to a Certain Fellowship Program
Aimed at reaching the best conformity to the fellowship program standards, our professionals go the extra mile scrutinizing each text. Plus, the features of your program and major will be emphasized!

Adjustment to the ERAS® & EFDO Requirements
Get a text that satisfies the whole list of the admission criteria. Gain absolute confidence in the fact that your doc will be crafted in accordance with the committee's highest standards. Let them have nothing to complain about!

Accurate Usage of Medical Vocabulary
Once you analyze how much experience our authors have, how many medical diplomas they hold, and how devoted they are to writing texts, their ability to incorporate medical terminology skillfully will get quite obvious.

Owners of Pertinent Medical Diplomas
Aside from being exceptionally good writers, our experts hold medical degrees. All the tasks are tackled by our seasoned professionals without any delays. We have an author for each application doc!

Additional Proofreading & Formatting
Reaching the word count is just about 30% of the whole work done. The other 70% is editing and proofreading, which our hard-working professionals do to make sure that the customer's order has nothing to do with mistakes or inaccurate formatting.
We are experts in writing :
Letter of Recommendation
Application Resume
MSPE, AND MORE!
Statement of Purpose
Personal Statement
ERAS Application Form Completion
And More!
Bonus Benefits

Chat with the Expert at No Cost
Whether it's a remark, question, or recommendation, our pros will take it into account anyway. Plus, there are no additional payments for communication with the writer who works on your text. That applies to each client.

Real Refund
Let's suppose you are far from being happy about the quality you received. There is only one way out – get your funds back! It is our company's policy to provide customers with superior quality. If we fail, they get a refund.

14 Days of Text Adjustments Free of Charge
Each of our customers, including you, is given a specific time frame to ask for corrections to the text. The only thing you should consider is that you only have this option for free if 14 days from the deadline expiration did not pass.

Quick Workflow & Swift Delivery
It does not matter how much time you have got for the order completion. Our medical experts will tackle each task in a flash. Missing deadlines is something that never happens to us. Shocking clients with sending fellowship application docs in advance, however, does!

Protected Transactions
Settle your nerves. With our innovative and advanced software, you no longer have to agonize over the security of your transactions. Your money will be safe, thanks to our software, which makes clients' card data, private info, and money unable to be shared.

100% Anonymity
You'll be able to experience confidentiality once you visit our website. With such protection of personal info, order details, and our user database overall, you can finally get rid of your fears. That boosts the trustworthiness of our service even more!
Get to Know About Our Commendable Medical Authors
Bet on our gifted, deft, and enormously knowledgeable medical professionals who are skilled in any medical area. Let your doubts go. Each and every potential writer has to take a difficult test to get recruited!

Diploma Holders

Adepts in Every Medical Specialization

Masters of Efficient Success-Oriented Strategies

Resourceful in the Creation of Texts

Accomplished Document Writers

Internal Medicine
Emmy is a virtuoso when we speak about IM. Gastroenterology and nephrology are her top areas. Nevertheless, she is practiced in all of the IM subspecialties. You will not need to ask Emmy to be precise about the requirements – it is her habit already! Order a fellowship application doc, and Emmy will prepare it for you in an ideal manner.

Radiology
All branches of radiology and even breast imaging are the medical spheres that Philip will manage with his eyes closed. Crazy about smooth transitions, cohesive text structure, and immaculate grammar, Philip will write a winning fellowship essay in two shakes.

Orthopedics
Emmie is our honorable doctor of medicine. It is a delight for Emmie to create written works that deal with her specialization. When this medical expert is assigned to your order, wave goodbye to your stress! She will analyze each requirement, point, and remark and will stick to all the standards. Leave it all to Emmie with no doubts!

Dentistry
Would you like to get a professionally crafted fellowship doc in dentistry? David is the best medical specialist for this task! He is abundantly practiced in writing, extremely qualified in his field, and just a rational person. Loosen up! Your trust in David will pay off.

Pathology
Cristian readily devotes himself to the hardest orders that somehow relate to chemical, clinical, pediatric, and other fields of pathology. Even so, Cristian is competent in nearly all the subspecialties that pathology has to offer. Tight deadlines, tons of info, and even days off cannot discourage Cristian. He makes us proud as he's preferred by countless customers!

Surgery
Whether it's plastic, thoracic, or any other type of surgery, Bonnie tackles all tasks related to this medical field in an instant. Describe your text requirements, and Bonnie will address those, going beyond your expectations. She's fascinated by her major. No obstacle can stop her from helping others fulfill their aims!

Pediatrics
Nothing is weightier to Alyce than children and their overall well-being. Right after this comes Alyce's wish to go to bat for applicants on their way to enrollment in the fellowship program. Let all of your doubts go. You can hardly find a more trustworthy specialist online than Alyce.

Family Medicine
Conor is a highly gifted medical expert. His competence in family medicine and all of its subspecialties is immeasurable. Conor Draper is the best choice you can make today!

Anesthesiology
One feature that makes Ben an exceptional medical specialist is that he always composes texts the way he would do if his own fellowship enrollment chances were at stake. Ben is always highly sympathetic to his clients. Besides, he constantly tries to determine the admission board's expectations from candidates. Furthermore, his rating is admirable. Working for us, Ben did not even once submit an order after the deadline expiration.

Psychiatry
Need an ideally polished fellowship admission doc in psychiatry? Use our service and have Lindsey work on your order. Addiction, community, administrative, and other subspecialties of psychiatry are what Lindsey Timms has a talent for. Order the necessary admission document and let Lindsey win your respect and admiration.

Testimonials
Customer: #245111

Thank you from the depths of my heart. Excellent and fast achievement, I will deal with you again with my sincere appreciation
Customer: #267561

Thank you so much for your persistently great work. I liked the personal statement and the three letters. They were well drafted and beautifully worked on.
Customer: #289925

You did a great job. I reviewed it quickly because I'm so busy, and I'm very satisfied with the result
Customer: #209021

Thank you Luke so much for all your help. It looks great
Customer: #263602

Thank you so much, I like every single word of it.
Customer: #267831

I love the changes and it works for me
Customer: #292720

Thanks for all your help. I am not a writer, but you are truly amazing
Customer: #212803

The write up looks good. I can see you utilized a lot of the descriptions I mentioned. Glad it helped!
Our Working Methodology
Fill in the Gaps
This step is nothing but duck soup. Fill out the gaps to provide us with the fellowship order requirements and press the payment button! To make your fellowship personal statement highly customized, our medical experts should be aware of particular info regarding your application: your accomplishments, the program choice, and the admission board's formatting standards.

It would be extremely effective if you did not ignore our Questionnaire. Save it on your device, fill it out, and attach the file to the order form. All details shared by clients are hidden from third parties. All of your personal data are protected under strict confidentiality terms.
Download a questionnaire

Pay for Our Assistance
Once you pay for the service, our medical specialist will launch the process of creating your fellowship text. Do away with your worries because each money transaction process is secured. Besides, all clients get an email confirmation of a successful transaction.

Payment methods:


Secure:




Customer Area
Once we know about the confirmation of your payment, we will promptly send your Customer Area sign-in data. Modifications to your password are allowed if needed. Your Customer Area basically lets you directly get in touch with your author and support manager. What's even more, features such as saving your order, requests for emendations to the text, and ordering new fellowship application docs are always at your disposal!


Stay Informed About Everything
To get updated on anything, check your email box. To ensure more profound supervision of your order, opt for SMS updates! When our author finishes your fellowship text, our Quality Department will begin the verification process, discovering whether the order requirements were met. Afterward, you'll be able to enter the Customer Area and download it. The final copy of your text will be submitted timely or even earlier! If any amendments are needed, let us know for 14 days.


Manage the Order Fulfillment

SMS Notifications & Email Updates
Opt for the most suitable method
of managing the order execution.

Customer Area
Contact your medical expert, receive completed
texts and assign other tasks in a breeze.

User Support
Reach out to our support staff in case you have
any order-related questions/remarks/comments.
Letter of Intent Fellowship: The Purpose of Writing
The way of showing your interest to learn specific residency program in the form of the document is known as a fellowship letter of intent. There are different things a residency director requires a candidate to write this letter. They focus on knowing your future plans post completing the residency program, the experiences, and skills that may help you to excel in this field, the objectives required during the program, your specific interest to choose the particular program and reasons to learn it. These are few major reasons that help the selectors or committees to either confirm your selection or reject it. There are numerous subjects and fields available that can be selected to learn about residency program in detail. This can help you to get more options for making a right choice.
The residency programs are mostly offered to build the learning skills along with an adequate amount of work experience in the candidate. This becomes valuable when you go into the job market and apply for various vacancies. The golden work opportunities are automatically created when you pursue a career in doing something exceptional in the residency program. Writing a healthcare administration personal statement you should not forget about other important documents such as a letter of intent. So discover, how to write it. First of all, choose the right qualification to study for:
Ambulatory Care Pharmacy
Cardiology (Pharmacotherapy Added Qualifications)
Geriatric Pharmacy
Infectious Diseases (Pharmacotherapy Added Qualifications)
Nuclear Pharmacy
Nutrition Support Pharmacy
Oncology Pharmacy
Pharmacotherapy
Psychiatric Pharmacy.

How to Write a Letter of Intent?
There are few major points that can help you in writing an excellent letter of intent in any field. Have a look at these steps for proper assistance.
The very first step is to let the residency director know about you. Write all the important details regarding prior education, built skills and world experience (if any).
The reasons that must convince the director are important to share. You must discuss the actual purposes of writing the letter.
All the significant credential are required to be included. The reader is definitely interested to know about all such kind of info in your letter.
Don't forget to write some praising lines about a certain program or school. This can help directors to know your opinion about their institution.
Ask for a response and write it in the kindest way. This is all about writing an engaging letter of intention.
Pharmacy Fellowship Letter of Intent: Things to Know for Making It Competitive
Writing pharmacy fellowship letter of intent or the one in any field, as well as cardiology fellowship personal statements requires a lot of attention and focus on the major tips.
The grammatically correct text content that must be well-written is definitely important to impress the director.
The genuine purpose of writing this letter grab more attention from the reader.
Never write stories or prolonging the sentences. This can have a negative impact on your letter. Write concise and brief information.
All the credentials must be based on true information. Any kind of wrong info can badly affect the overall image of your letter.
The introduction and conclusion parts must impress the readers. It is helpful for the writers to make it more appealing in this manner.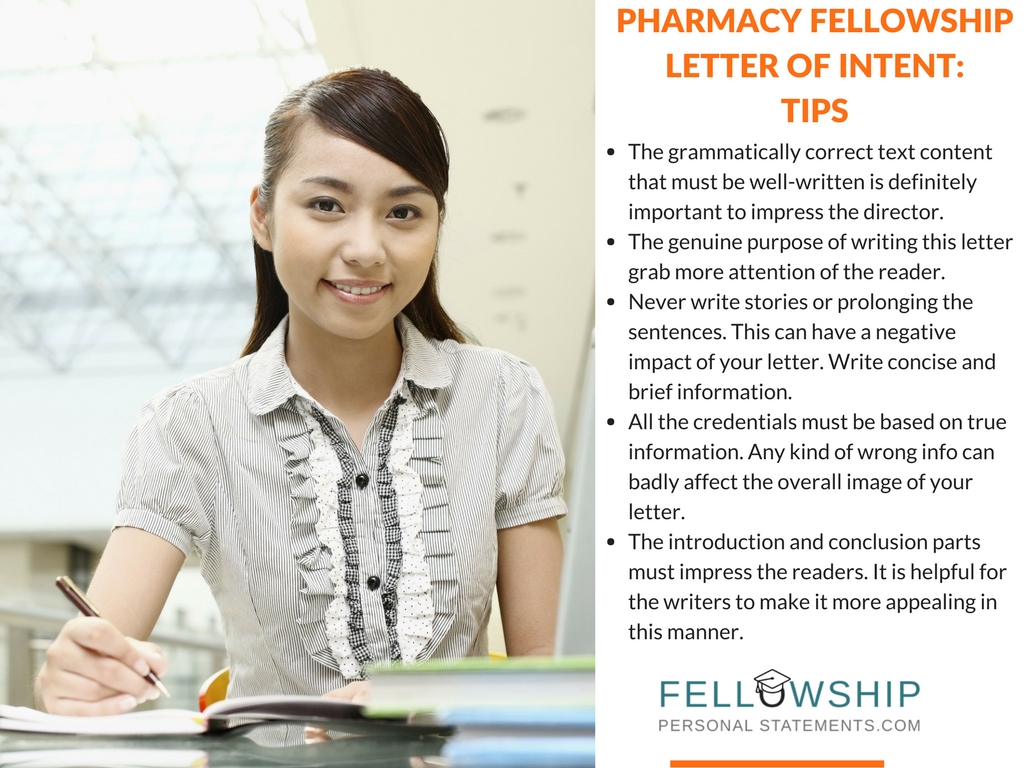 Letter of Intention: Benefits of Hiring Us
The letter of intent or pediatric critical care personal statement isn't something you can write in a few minutes. You need to study it in detail and then write the appropriate information. Our team is an ideal option to help you out in writing in professionally. Here are some benefits of hiring us.
We provide up to the mark services by writing a letter of intent in a professional way.
Our team assures the admission of any desired institution for a residency program.
No grammatical mistakes, as well as spelling errors, are made in the intention letter prepared by our valuable authors. This can be quite helpful for being part of a well-reputed institution.
The errors are fixed as many times as you want in the written draft sent to you. W always try to provide you satisfied work. Try us right now.
The competitive fellowship letter of intent with brilliant yet professional writing help is all set to amaze you here.
Simply, hire our team to get a guarantee of seeking admission in a renowned residency program school.