Professional NICU Fellowship Personal Statement Writing
Our top-tier experts are standing by, ready to craft a fellowship personal statement that will leave a lasting impression on the admissions committee from the first line.

Proficiency
in ERAS® Application

WHAT LETS US MAKE YOUR FELLOWSHIP PERSONAL STATEMENT THE BEST
When you choose our fellowship personal statement writing service, you'll get even more than expected.

Winning & Personalized Documents
Impress the committee with a perfectly customized fellowship personal statement made from scratch. There are no templates – only your own materials from the questionnaire to provide the best personalization.

Tailored to Your Chosen Program
Experts carefully review each personal statement to ensure it meets all the requirements of the fellowship program you choose, considers your major, and emphasizes the most critical course-related characteristics.

Conformity With the ERAS® & EFDO Requirements
Every fellowship personal statement we produce is created by highly competent medical experts in strict accordance with the ERAS® application system requirements and with compliance with EFDO standards.

97% Acceptance Rate Among Customers
As a result of careful preparation for writing and a personalized approach, all personal fellowship statements crafted by us have led 97% of our customers to enroll in the desired programs. And you can be one of them.

Assigning to Medical Degree Holders
Aside from being exceptionally good writers, all our experts hold medical degrees. So your fellowship personal statement will be tackled by a proficient professional with appropriate field expertise and a checked background.

Fast Turnaround & Timely Delivery
No matter how much time you have left until your deadline, our experts proceed with your fellowship personal statement as soon as they receive all the necessary details, delivering it on time, even if you have just a few days.
We are experts in writing :
Letter of Recommendation
Application Resume
MSPE, AND MORE!
Statement of Purpose
Personal Statement
ERAS Application Form Completion
And More!
ORDER FELLOWSHIP PERSONAL STATEMENT AND ENJOY BENEFITS

Chat With the Expert Directly
Ensure maximum control over your fellowship personal statement by communicating directly with the assigned expert – be aware of the status of your order whenever needed, discuss vital details, and request revisions without intermediaries.

Money-Back Is Available
We guarantee every customer total satisfaction with their fellowship personal statements or make a refund if there are some issues with the order we cannot solve or if their plans are just changed and final doc versions aren't downloaded.

14 Days of Unlimited Edits
There is no limit to perfection, so we're ready to improve your fellowship personal statement even after completion. So make the most of unlimited amendments without any charge – it's available within 14 days after the document delivery.

Simple & Сlear Workflow
There are no complexities – just place an order via chat or order form, pay conveniently online, and wait a bit for a final copy. Benefit from the Customer Area to be always up-to-date about your order and communicate with the expert 24/7.

Complete Payments Safety
The security and protection of our customers' transactions are fundamental to us. That's why we only cooperate with safe, robust payment partners and implement advanced security measures to protect all private & payment information.

Fully Confidential Cooperation
Choosing our fellowship personal statement help, rest assured, as all information about our cooperation will be kept secure. A no-name basis ensures complete confidentiality and advanced website protection prevents any data leakage & sharing.
GET RID OF YOUR WRITING STRESS BY CHOOSING THE BEST
Passing your fellowship doc to us, you can be sure of getting help from the best experts with exceptional writing talent, field expertise, and a deep understanding of admission processes.

Diploma Holders

Adepts in Every Medical Specialization

Masters of Efficient Success-Oriented Strategies

Resourceful in the Creation of Texts

Accomplished Document Writers

Internal Medicine
Emmy is a virtuoso when we speak about IM. Gastroenterology and nephrology are her top areas. Nevertheless, she is practiced in all of the IM subspecialties. You will not need to ask Emmy to be precise about the requirements – it is her habit already! Order a fellowship personal statement from her, and Emmy will prepare it in an ideal manner.

Orthopedics
Emmie is our honorable doctor of medicine. It is a delight for Emmie to create written works that deal with her specialization. When this medical expert is assigned to your fellowship personal statement, wave goodbye to your stress! She will analyze each requirement, point, and remark and stick to all the standards. Leave it all to Emmie with no doubts!

Pathology
Cristian readily devotes himself to the hardest orders that somehow relate to chemical, clinical, pediatric, and other fields of pathology. Even so, Cristian is competent in nearly all the subspecialties that pathology has to offer. Tight deadlines, tons of info, and even days off cannot discourage Cristian when he aims to treat you with the best fellowship personal statement. He makes us proud, as countless customers prefer him!

Surgery
Whether it's plastic, thoracic, or any other type of surgery, Bonnie tackles all tasks related to this medical field in an instant. Describe your fellowship personal statement requirements, and Bonnie will address those, going beyond your expectations. She's fascinated by her major. No obstacle can stop her from helping others fulfill their aims!

Pediatrics
Nothing is weightier to Alyce than children and their overall well-being. Right after this comes Alyce's wish to go to bat for applicants on their way to enrollment in the fellowship program. Let all of your doubts go. You can hardly find a more trustworthy fellowship personal statement writer online than Alyce.

Family Medicine
Conor is a highly gifted medical expert. His competence in family medicine and all of its subspecialties is immeasurable. Conor Draper is the best choice you can make today to order a well-composed fellowship personal statement!

Psychiatry
Need an ideally polished fellowship personal statement? Use our service and have Lindsey work on your order. Addiction, community, administrative, and other subspecialties of psychiatry are what Lindsey Timms has a talent for. Order the necessary admission document and let Lindsey win your respect and admiration.

CUSTOMERS ABOUT PERSONAL STATEMENTS RECEIVED
Customer: #345890

Very grateful for this incredible work. amazing quality!
Customer: #456743

well structured, very detailed, and perfectly reflected my strengths. wow
Customer: #900875

The author's attention to detail was impressive. Despite a few typos, they quickly clarified any misunderstandings and revised my comments. Excellent!
Customer: #997534

will recommend you to everyone. the best service I've ever worked with!
Customer: #895045

Nice job, guys, thanks
Customer: #778466

Very patient and polite writer. It was a true pleasure to work with you. Thank you a lot.
Customer: #445890

fantastic experience! will be glad to turn to my writer again
Customer: #563214

even couldn't imagine that someone could describe me so precisely. feels like you have known me for years :)
4 STEPS TO A WINNING FELLOWSHIP PERSONAL STATEMENT
Fill in the Gaps
This step is nothing but duck soup. Fill out the gaps to provide us with the requirements, and press the payment button! To make your fellowship personal statement highly customized, our medical experts should be aware of particular info regarding your application: your accomplishments, the fellowship program choice, and the admission board's formatting standards.

It would be extremely effective if you did not ignore our Questionnaire. Save it on your device, fill it out, and attach the file to the order form. All details shared by clients are hidden from third parties. All of your personal data are protected under strict confidentiality terms.
Download a questionnaire

Pay for Our Assistance
Once you pay for the service, our medical specialist will launch the process of creating your fellowship personal statement. Do away with your worries because each money transaction process is secured. Besides, all clients get an email confirmation of a successful transaction.

Payment methods:


Secure:




Customer Area
Once we know about the confirmation of your payment, we will promptly send your Customer Area sign-in data. Modifications to your password are allowed if needed. Your Customer Area basically lets you directly get in touch with your fellowship personal statement author and support manager. What's even more, features such as saving your order, requests for emendations, and ordering new fellowship application docs are always at your disposal!


Stay Informed About Everything
To get updated on anything, check your email box. To ensure more profound supervision of your order, opt for SMS updates! When our author finishes your fellowship personal statement, our Quality Department will begin the verification process, discovering whether the order requirements were met. Afterward, you'll be able to enter the Customer Area and download it. The final copy of your personal statement will be submitted timely or even earlier! If any amendments are needed, let us know in 14 days.


HOW CAN YOU TRACK YOUR ORDER PROGRESS

SMS Notifications & Email Updates
Opt for the most suitable method
of managing the order execution.

Customer Area
Contact your medical expert, receive completed
texts and assign other tasks in a breeze.

User Support
Reach out to our support staff in case you have
any order-related questions/remarks/comments.
NICU Fellowship Personal Statement Writing: Best Tips for Success
Are you a medical professional tired of the routine, wanting something new, and looking for career improvement? Then the fellowship NICU program is your best opportunity because it will help you improve your skills and gain new knowledge in your field. However, before being accepted into an NYU NICU fellowship program, e.g., you must submit a personal statement showcasing your qualifications, goals, and passion for neonatal care.
The great news is that by following our recommendations, you can simplify the process of creating an effective NICU fellowship personal statement making an impression on admissions committees and boosting your chances of admission into a top program.
What is NICU?
The NICU fellowship program ensures fellowship applicants get advanced knowledge and skills to care for critically ill newborns. After studying for one or two years, students gain the necessary experience and credentials. During this time, they participate in clinical rotations, research projects, and educational activities to comprehensively understand neonatal care.
Why is a Personal Statement Important for NICU Applications?
A personal statement is critical to any NICU fellowship application, as it gives admissions committees a glimpse into your personality, motivation, and suitability for the program. A perfectly written personal statement can distinguish you from other applicants and demonstrate your professional passion.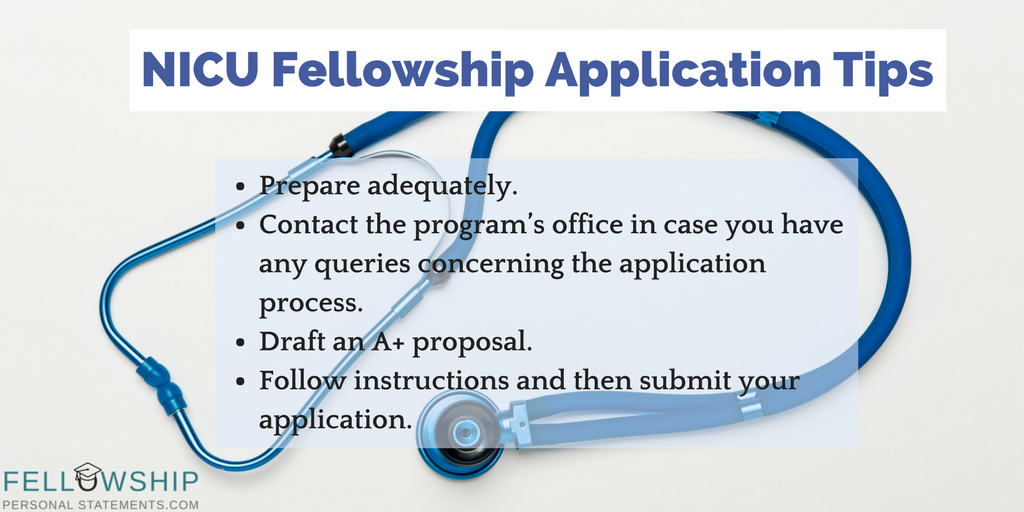 So if you need any medical fellowship personal statement help, our writers are experts in all aspects of admission document writing, including grammar, word choice, speech style, structure, formatting, and necessary points. Students who trust us get original, high-quality work tailored to their needs and preferences – we help you stand out from the applicants' crowd and showcase your passion and commitment to NICU fellowship.
Let's dive deeper and learn some tips to use while writing a comprehensive NICU personal fellowship statement to some of the most prestigious universities and NICU programs.
UCLA NICU Fellowship: Do Your Research on the Program
Before applying to a university, it is important to thoroughly research the program to understand any unique enrollment requirements specific to that institution. In addition, look for information on the UCLA NICU fellowship program's mission, goals, and values, as well as its faculty and current fellows. This will help you adapt a personal statement and other parts of your ERAS fellowship application to the specific program and demonstrate your knowledge and interest in the field.
CHLA NICU Fellowship: Highlight Your Qualifications
Your personal statement should showcase the qualifications and experiences that make you a strong candidate for the CHLA NICU fellowship program. This may include your education, clinical experience, research experience, and leadership roles. Demonstrate your skills and accomplishments with specific examples explaining how they have prepared you for a career in neonatal care.
Vanderbilt NICU Fellowship: Share Your Goals and Motivations
Tell NICU admission committees why you are interested in pursuing a neonatal care career and your long-term career goals. Share your motivations for pursuing a Vanderbilt NICU fellowship and career aspirations. This demonstrates your commitment to the field and desire to contribute meaningfully to neonatal care.
Sharing Professional Passion as a Must-Have of Brown NICU Fellowship
Neonatal care is a highly specialized field requiring unique skills, knowledge, and compassion. Your Brown NICU Fellowship personal statement should demonstrate your professional neonatal care passion and commitment to providing the best care for critically ill newborns. Use specific examples to illustrate your dedication to the field, such as volunteer work or personal experiences of newborn caring.
Baylor NICU Fellowship: Be Concise and Well-Organized
NICU admissions committees review hundreds of personal statements, so keeping your statement concise and well-organized is essential. Use concise and clear language, avoid unnecessary slang or technical terms. To make your Baylor NICU fellowship statement easy to read and navigate, use headings, subheadings, and bullet points.
The tips we provided above will increase your chances of acceptance almost to any program, whether it's a Madison or Duke NICU fellowship or any other.
If you are looking for a writing service, you can rely on our team and rest assured that your NICU personal statement is crafted by experienced admission experts with an average of 4+ years of experience and academic degrees ranging from MA to PhD. They are qualified to make your content expressive of you and your ideas and provide you with a brief, clear, and cliché-free NICU text.
Final Tips to Ensure You Are on the Right Path
Before pursuing a career in NICU, it's essential to understand what the field entails. While dynamic mentors and faculty members can be inspiring, it's vital to consider the lifestyle that comes with the job. Maybe you'll be uncomfortable with the work lifestyle, such as frequent night calls and long hours in the hospital. In that case, NICU fellowship may not be appropriate for you as it doesn't align with your aspirations and principles.
You'll do different things as a UNC NICU fellowship resident, fellow, or attending at each career stage. Take the time to build relationships with attending physicians and ask them about their experiences raising a family while working in NICU. Figure out how it feels to take calls at night and work long hours as you get older.
Get Professional Help With Your Personal Fellowship Statement
Are you struggling to craft the perfect hospital medicine fellowship personal statement or any other admission document that can impress admissions committees and land you a spot in your dream NICU program? Look no further than our top-quality writing service! Our professional personal statement writers team has the skills and experience to help you create an eye-catching NICU statement tailored to the program, reflects your personality, and showcases your qualifications and goals.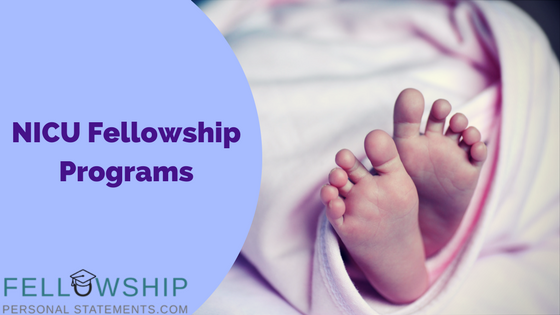 Don't let the stress of NICU personal statement writing keep you from pursuing your dreams. Contact our writing service today and let us help you create a winning NICU fellowship personal statement that will distinguish you from your competitors and boost your chances of being successfully accepted into a top NICU program. With our support, you can accomplish your goals and take your career in neonatal care to the next level.
So take this chance to improve your NICU admission prospect right now!