Cytopathology Fellowship Statement Writing Tips December 22, 2017
610
1581
When applying for cytopathology fellowship program, there are application requirements needed to submit. Applicants for the cytology study must need to make sure that they complete all materials needed on or before the deadline for their application to be considered. Learn more about it and fellowship program personal statement.
Here's some information about dermatology fellowship personal statement, if you need one.
Application Process for Cytopathology Fellowship
Each medical university has their own application process, just like MIGS fellowships that applicants should follow and depending on the school you choose, there are certain documents you must submit on or before the submission deadline. Here is the standard application process:
Submit completed fellowship application form
Updated curriculum vitae with cover letter
Personal statement
3 letters of recommendation
Photograph
Tips on Writing the Cytopathology Fellowship Personal Statement
List of defining experiences: You need to list your best defining experiences such as specific classes, hobbies, research, volunteer work, extracurricular activities and others. You need to avoid including too much personal experience such as illnesses in the family, trouble with siblings, breakups and so on. It is hard to write a personal statement, but you need to avoid being sentimental. It is better to write experiences that shaped and helped you to make a great choice just like a significant experience in the study of histology in university.
Demonstrate intellectual curiosity: You need to choose an experience demonstrating your intellectual curiosity, leadership ability, dedication to service or other traits you think that is relevant that helps you to become a good medical or doctor student.
Write a draft: In writing, you need to begin with a draft and be specific. You should not write too many anecdotes because it will bore the admission committee. The draft you will create should be succinct demonstrating your motivations and character.
Revisit your draft: Set aside your draft, and then go back to it after a couple of days or weeks. Make sure to revisit your essay with fresh eyes. When you write, be honest as much as possible.
Revise: When you revise, you need to tighten your structure. If you need to add new information to have a clear point or make your points clearer, then do it. In revising, you need to get rid of sections or sentences that are unnecessary. Also, you need to use active voice.
Get feedbacks: Allow trusted people to read your personal statement and get their feedback. Based on their suggestions, revise again your essay to make it more effective. Do not get feedbacks from many persons because too much response can be overwhelming.
Proofread: Read your personal statement for grammar mistakes, repetitions, typos and others. Make your essay effective before you submit your essay.
Questions to consider:
Who are you?
What are your concerns and passionate interests?
How you develop your interests?
What regrets or mistakes taught you something essential about yourself?
What courses, events, and books had a big impact on you?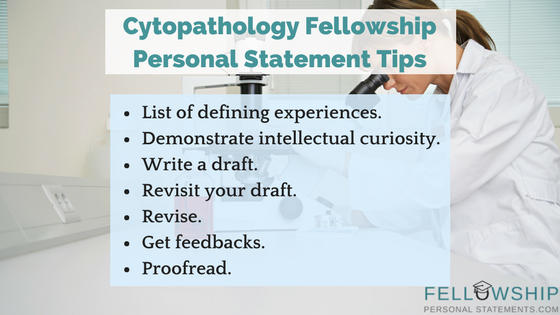 | | |
| --- | --- |
| Things to Do | Things not to do |
| Use your experience to tell a story of your personal progress | Adapt sentimental or confessional tone |
| Write using active voice | Put the resume in narrative form |
| Strive for concision | Use abbreviations, slang, and jargons |
| Be humble and confident | Write flowery language |
| | Include a famous quotation |
Note: Before you start writing your personal statement, make sure that you know what to avoid and what you should consider constructing a magnificent essay.
List of Cytopathology Fellowship List
Baylor University: The Baylor cytopathology fellowship is a one-year program and it is designed to give comprehensive training in the program, which includes aspiration biopsy with clinical correlation and surgical pathology. Students are responsible for cytopathology and numerous tumor board conferences.
Yale University: Yale cytopathology fellowship is accredited and it is a 1-year program with an intensive training. The fellowship gives a broad spectrum of experiences, which include cytology specimens to the molecular application.
University of Washington: University of Washington cytopathology fellowship is offering advanced training in cytopathology diagnostic, which include non-gynecologic, fine needle aspiration and gynecologic interpretation. Applicants need to have a complete training to get a certification.
If you are still looking for other fellowship programs, you can apply for UCSF cytopathology fellowship or Columbia cytopathology fellowship program.
Professional Service Help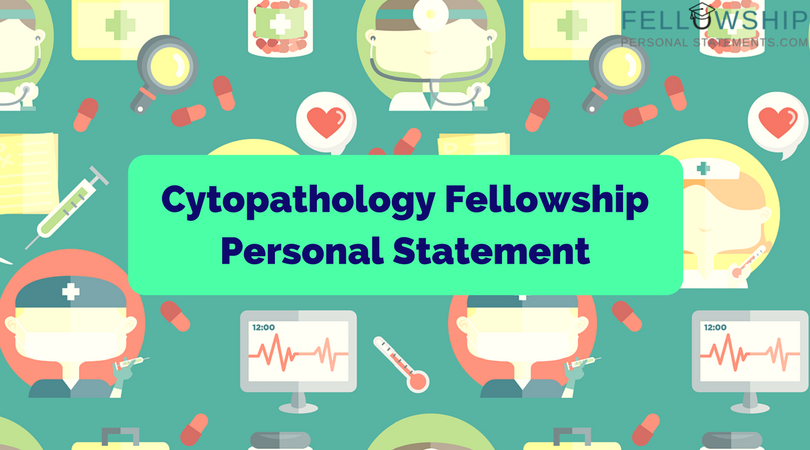 Getting help from expert service online makes sure of an excellent team that works on your personal statement to ensure it is unique and customized. They make sure that you can show your best qualities and abilities. They are dependable and experienced writers that can help you to get an interview.
Whenever you need help to have the best essay that stands out, getting an online writing service is your one-stop solution. In writing your personal statement, you can ask for professional service. You can also search for tips on writing the personal statement to get started ahead of time. Finally, writing the essay is not easy, but if you do your best and show what you have, you can succeed in the application.
Be successful in your applications!  Hire us for the best cytopathology fellowship personal statement today!
Get Help
You May Also Like December 22, 2017
645
1671
When applying for cytopathology fellowship program, there are application requirements needed to submit. Applicants for the cytology study must need to make sure that they complete all materials ne... Read More December 22, 2017
628
1626
When applying for cytopathology fellowship program, there are application requirements needed to submit. Applicants for the cytology study must need to make sure that they complete all materials ne... Read More