Residency Application Personal Statement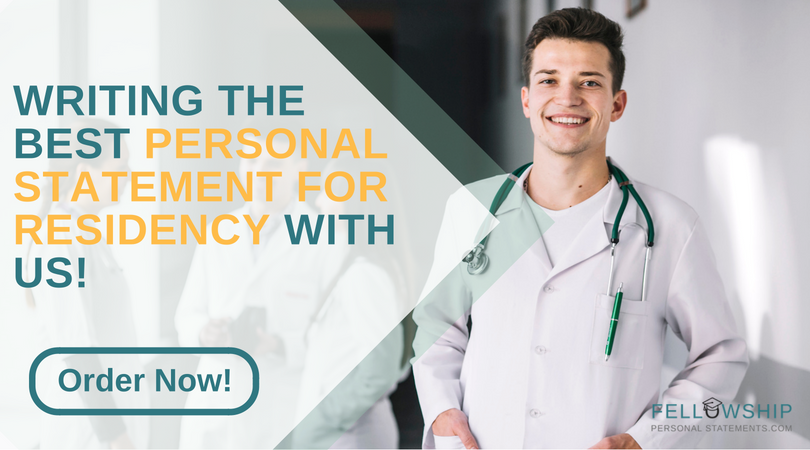 What Is Residency Application?
Any medical student when completes the graduation covers the first step in fulfilling the dream of becoming a doctor. However, this is the start of the journey towards choosing any medical specialty and getting admission into the residency program of that medical specialty. It is obvious that after successful completion of the residency program, the graduate medical doctor becomes a fully certified doctor in a particular field of medical specialty. However, choosing the specialty and especially getting admission into the desired residency program of that specialty program is not an easy task.
Winning the admission into favorite residency program depends upon your skills of presenting yourself in front of reviewers via residency application personal statement. Well, by following the guidelines of ERAS personal statement and fellowship cover letter, the chances of winning admission in the preferred residency specialty program become much higher.
Why Do You Need to Write Residency Application Personal Statement
To understand the importance of personal statement for medical residency, let's have a look on 2014 survey of National Resident Matching Program (NRMP).
According to this survey, 78% program directors who examine the residency admission application for shortlisting to interview, consider the personal statement as most important document to shortlist the applicant for interview.
Hopefully, the results of this survey are good enough to reveal the answer of the question "why do you need to write residency application personal statement?" Nevertheless, in case of still any confusion about need of medical residency application personal statement, just remember that personal statement is a rare opportunity to prove yourself in front of selection committee that you are the perfect and ideal candidate for the post of chosen residency program and you can prove it by mentioning the reasons of interest in the particular residency program.
List of Top 10 Residency Specialties
Following is the list of top 10 residency specialties that most of the medical graduates prefer to choose after completion of their graduation. No doubt, there are several requirements to apply to any one of these residency specialties such as following the ECFMG and MSPE process as well as processing the application via ERAS. However, chances of getting admission in residency specialty become higher only when personal statement for medical residency is written in highly professional and excellent manner.
Let's have a look at top 10 residency specialties:
Residency in General Surgery
Residency in Internal Medicine
Residency in Emergency Medicine
Pediatric Residency
Anesthesiology Residency
Residency in Family Medicine
Residency in Diagnostic Radiology
Residency in Orthopedic Surgery
Residency in Obstetrics and Gynecology
Psychiatry Residency
What to Include in Residency Application Personal Statement?
Some people think that finding an online residency personal statement example is much enough to take an idea of preparing a good personal statement, but it is not. No doubt, a good sample residency personal statement could be a source of inspiration for the writers, but it could not elaborate the secret of what to include in residency personal statement.
For all those persons who want to know the fact about what to include in the residency personal statement, following are the lines:
First of all, write an inspiring introduction of your personal statement that could describe the reason of choosing the particular residency program. Instead of being dragging the simple words to inspire the reader that you are very passionate about this medicine specialty and want to make your career in this field, tell a story from your past that could relate your enthusiasm with the chosen residency program.
Include an event from your medical graduation years in which condition of some patient has encouraged you to become specialist in chosen residency or some mentor has influenced your decision of choosing particular specialization.
While writing a personal statement for residency, don't forget to include particulars about your life experience such as academic background, extracurricular activities, job experience etc. It is better to highlight the achievements in each field such as academic achievements, real-world experiences and success etc.
You should also include your prospects that you are expecting from residency program of chosen institute. Here, you should mention the remarkable achievements of institute in the concerned residency specialty.
In the concluding paragraph of personal statement, you must include your aim after completion of specialization. This is the very critical part of your statement, so make sure it should be written in very impressive and powerful way.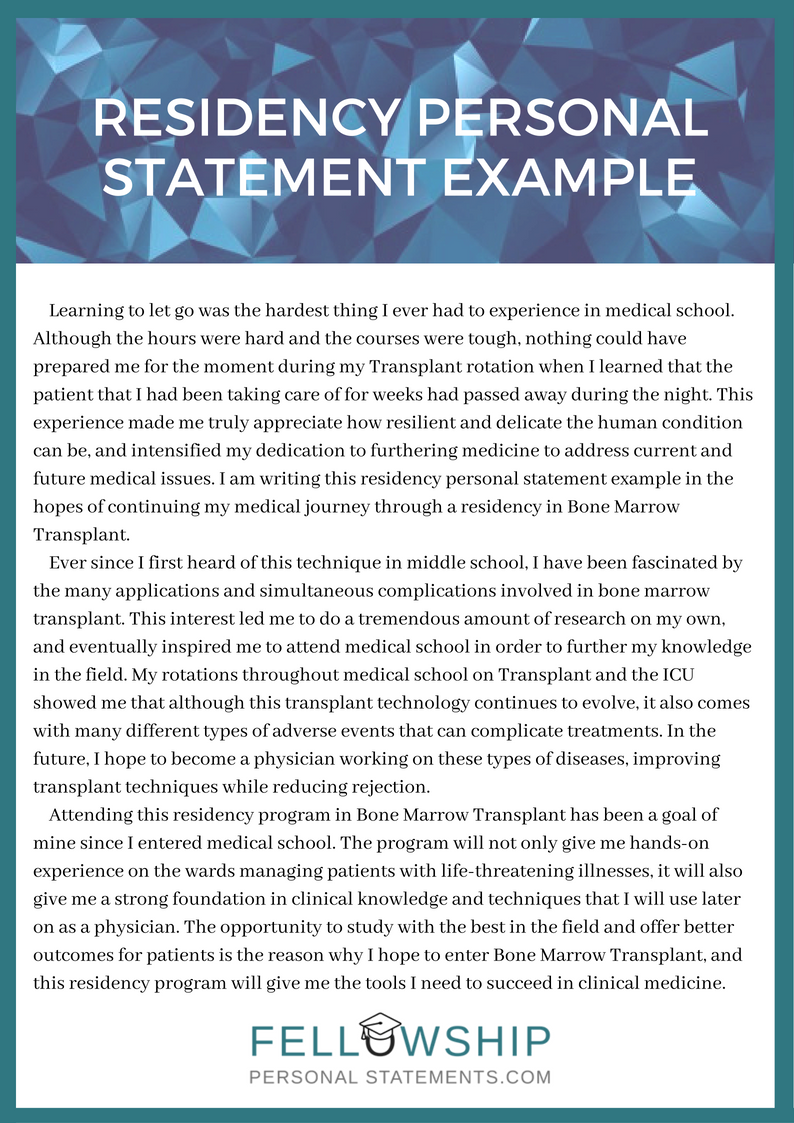 What Shouldn't Include in Residency Application Personal Statement?
No doubt, lots of online residency application personal statement examples are available at internet, but how many tell us what shouldn't include in residency application personal statement? Of course, there is no guideline about the rules of writing an inspiring personal statement in any online residency application example.
However, the following lines will definitely unveil the information about what shouldn't include in residency application personal statement:
Don't include religious, political or any other such event that could be contradictory. You don't know the religion and political affiliation of members of selection committee, so there could be chances of reviewing your application with biased eyes.
Don't try to write your academic, professional and personal particulars in chronological order just like your CV. Don't forget, CV is just a source of information about your particulars, but personal statement explain the details "Who you are and why you are eligible for the post?"
Don't include such event or sentence that could reveal your anger about anything.
Top 5 Steps for Writing Personal Statement for Residency
Following are top 5 steps for writing personal statement for residency:
You should start writing your personal statement for residency much before time. For instance, if the deadline of applying for residency program finishes in January, you should start practice of writing personal statement in December. The reason is that you can't write the winning personal statement just in one attempt. Every time, you will read the draft, you will definitely find some mistakes.
Don't write the original draft of personal statement at once. First of all, make an outline of your draft in which you can divide your statement into three main parts i.e., introduction, body, and conclusion.
In the introduction of your personal statement medical residency application, you have to give an answer of question that why you have chosen the particular residency specialty.
In the body of personal statement, you have to tell the readers that what you have bring especially and why the selection committee give importance to your application.
In the conclusion of personal statement, you have to explain your aims and ambitions after completion of the residency program in which you are going to apply. Moreover, you should also elaborate your expectations in the conclusion that what you want to get from this residency program.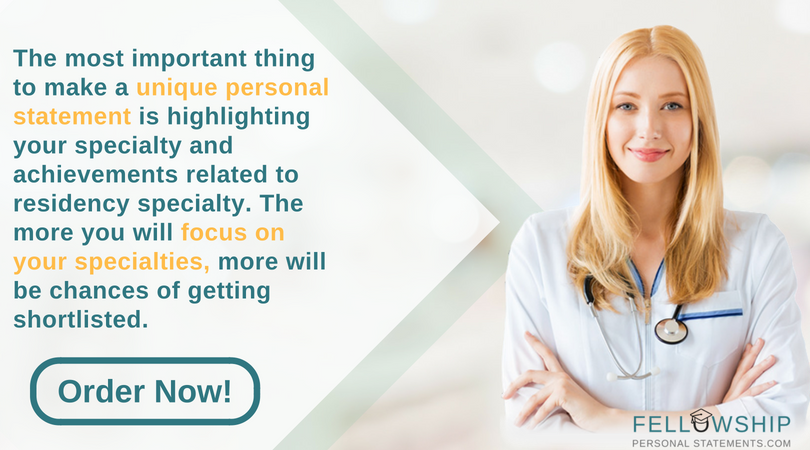 5 Prompts to Make Residency Personal Statement Unique
Following are the 5 prompts to make your residency personal statement, a unique one:
The most important thing to make a unique personal statement is highlighting your specialty and achievements related to residency specialty. The more you will focus on your specialties; more will be chances of getting shortlisted.
After writing the personal statement, ask anybody to review or proofread the draft of your statement. In this way, you can easily find out the mistakes in your personal statement.
If someone has pointed out the mistakes in your personal statement, but you don't know how to rectify these mistakes; you can get help of some reputed online residency personal statement editing service. These professional editing services can manage your personal statement exactly according to requirements of institute in which you want to apply for residency.
Don't leave any single mistake in your personal statement. Check several times for any spelling or grammatical mistakes and pay much emphasis on formatting and length of personal statement. Your personal statement should not be longer than one page.
Don't hesitate in getting professional residency personal statement help, because professional online writing services know very well about expectations of selection committee from your personal statement and how to make your statement, a winning one in their eyes.
Rely on our experts to help you with the writing process. We know how tough it is for our students to work on their residency application personal statement, so be sure to get the most qualified assistance!
Personal Statement Conclusions
Experts at our personal statement writing services advice you to write the conclusions of your residency personal statement by keeping following aims in your mind:
Use the conclusion to outline your future aims.
Consider the conclusion of your personal statement as an opportunity to describe that what you are seeking in this residency program.
Use your personal statement conclusion to highlight why you have chosen this specialty.
Connect the essay with conclusion of personal statement to express the theme of essay.
How Our Professional Writers Can Help
Our residency personal statement writing service offers you the best professional writers. Let's have a look on the following mentioned features and guarantees that our professional writers offer you:
100% guarantee of original content
100% guarantee of customized content
100% guarantee of privacy of client
100% guarantee of quality content
100% guarantee of direct communication with the writers
100% guaranteed the cheapest price with discount offers
100% specialized writing, editing, formatting, and proofreading service
24/7 online toll-free customer service
Get the best written and winning residency application personal statement by hiring the services of our professional writers in affordable price and enjoy discount offers!